Routes World officially handed over to Gulf Air Group Holding for 2024 host
The 29th edition of Routes World is expected to bring together more than 2,500 key aviation industry professionals from around the world.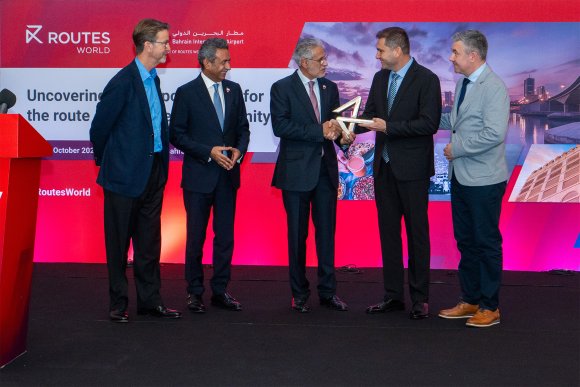 CREDIT: OCEAN DRIVEN MEADIA ROUTES
The 29th edition of Routes World is expected to bring together more than 2,500 key aviation industry professionals from around the world.
Routes World, which brings together decision makers from airlines, airports and destinations to define the world's air route networks, is heading to the Kingdom of Bahrain from 06-08 October in 2024.
As the 2023 edition of the event drew to a close, iGA – Istanbul Airport handed over the hosting responsibilities of the event to Bahrain International Airport, in the presence of a special Bahrain delegation led by Chairman of Gulf Air Group Holding (GFG), H.E. Mr. Zayed R. Alzayani and Bahrain Airport Company (BAC), Chief Executive Officer Mohamed Yousif AlBinfalah and members of BAC's Airline Marketing and Route Development teams, Economic Development Board of Bahrain (EDB) and Bahrain Tourism Authority (BTEA).
With its strategic location in the heart of Gulf and proximity to major destinations across Asia, Europe and Africa, Bahrain serves as an important trading link between the East and the West. Its diverse economy, excellent business environment supported by world-class aviation infrastructure, make it a perfect destination for businesses and airlines to launch or expand their operations. Routes World 2024 will showcase Bahrain's long-standing aviation history, strong infrastructure and thriving tourism industry and will result in attracting business opportunities and partnerships with international airlines and aviation stakeholders.
By consistently uniting decision-makers from the global route development community on an international platform, Routes World has made a real impact on the world's air services – over half of the world's new routes are connected to meetings at the event. VPs and Heads of Network Planning from 250 carriers are expected to attend the event.
Speaking at the handover ceremony, Steven Small, director of Routes, said: "Bahrain's Economic Vision 2030 aims for a productive, robust economy that is sustainable, globally competitive and fair. Routes World will be a critical event for the Kingdom to achieve this aim. By uniting decision makers from the route development community in the Kingdom of Bahrain, the destination will be at the centre of conversations driving growth in global air connectivity."
"We are honoured that the Kingdom of Bahrain will be hosting this prominent global event, and we'd like to congratulate Team Bahrain for their efforts in contributing to hosting the 29th edition of the conference that will bring together global leaders from the aviation sector under one roof. The conference will support the objectives of the Bahrain Economic Vision 2030, with an aim to position the Kingdom as a global, competitive and sustainable economic hub." said H.E Zayed R. Alzayani, Chairman of Gulf Air Group Holding (GFG).
At Routes World 2023, Istanbul, Bahrain had a successful participation where it joined the ranks of international key aviation stakeholders to facilitate conversations around the future of global aviation sector. The country marked its presence at Routes World 2023 under the theme, '100 years of Bahrain', showcasing Bahrain as a prominent tourism destination, its rich heritage, cultural diversity and renowned hospitality at one of the world's most important aviation events.
For more information about Routes World 2024, please visit our website.