Runway Safety Project Completed
Posted: 1 April 2010 | Sydney Airport Corporation Limited | No comments yet
Sydney Airport's $100 million runway safety project is complete and the east-west runway has been returned to normal operations…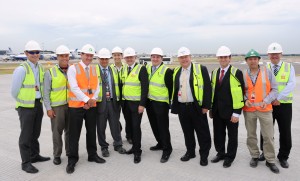 Sydney Airport's $100 million runway safety project is complete and the east-west runway has been returned to normal operations.
Runway safety areas have now been provided at each end of Sydney Airport's three runways. These areas provide an extra margin of safety for passengers in the unlikely event that an aircraft overruns or lands short of a runway.
Construction of the new safety area – a 90 by 90 metre cleared and paved area at the western end of the east-west runway – was a significant engineering challenge as it had to be built over a major sewerage line, the M5 East Motorway tunnel, and a major electricity cable.
It is designed to support nearly 600 tonnes, the weight of a fully laden A380 aircraft as well as emergency and rescue vehicles.
The Minister for Infrastructure, Transport, Regional Development and Local Government, the Hon Anthony Albanese MP, inspected the new runway safety area on Monday and thanked the local community for their patience and perseverance.
"The new runway safety area – the last of six to be built at the Airport – is essential for the Airport's compliance with international safety standards, and if not built the east-west runway would have had to effectively close," Mr Albanese said.
The CEO of Sydney Airport, Russell Balding, said Sydney Airport regards safety as paramount.
"In the air and at our airports, Australia's aviation safety record is the envy of the world. We want to keep it that way.
"I want to congratulate all of Sydney Airport's staff and contractors who were involved in delivering this vital piece of aviation infrastructure on schedule.
"Sydney Airport is investing to provide Sydney with the aviation infrastructure it needs," Mr Balding said.
Sydney Airport apologises to people who were affected by the construction of this vital safety project and thanks them now that it has been successfully completed.
Related topics
Related airports