New Norse Atlantic routes to boost economy and support more than 400 local jobs at London Gatwick
More than 400 new local jobs have been created through Norse Atlantic's expansion at London Gatwick, boosting local economy.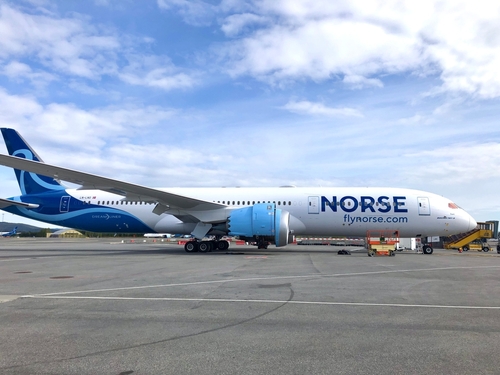 Norse will operate 33 weekly flights from London Gatwick to the USA this summer
More than 400 new local jobs have been created through Norse Atlantic's expansion at London Gatwick. The airline will add six new transatlantic routes and create a permanent base at the airport. 
Norse, which began flying daily between Gatwick and New York last August – and recently added routes to Orlando, Fort Lauderdale and Washington – is further expanding with a new service to Los Angeles, which started 30 June 2023. The airline also added flights to San Francisco on Saturday and will start flying to Boston from 02 September 2023.  
These new routes and aircraft base – the Norwegian carrier's largest – mean Norse has employed 250 cabin crew and 108 pilots on local contracts at London Gatwick, as well as a further 25 support staff.   
Having six aircraft based at Gatwick will also require at least 45 additional ground staff, employed through Red Handling.    
Jonathan Pollard, Chief Commercial Officer, London Gatwick said: "These new Norse Atlantic routes are fantastic news for local people across London and the South East. Not only do they offer excellent transatlantic connections, supporting both leisure and business travel, but importantly provide a significant number of new jobs for local people, as well as boosting the region's economy." 
Bjorn Tore Larsen, Chief Executive Officer, Norse Atlantic said: "Norse Atlantic Airways firmly believes in the importance of supporting local economies and creating job opportunities. We recognise the significance of London Gatwick as a thriving hub for both business and leisure travel. By fostering partnerships, investing in infrastructure, and prioritising the recruitment of local talent, we aim to not only boost employment but also contribute to the continued growth and prosperity of the region." 
Keith Fogarty, Chief Operating Officer, Red Handling said: "More than 120 jobs have been created at London Gatwick this year thanks to the investment of our partners, who have chosen to work with Red Handling.  
"Norse Atlantic's commitment to the Red Handling partnership is testament to the front-line workers who deliver quality handling to our customers. We handle more than 9500 flights a year at London Gatwick and are committed to supporting the local community and created employment both directly and indirectly with our suppliers." 
Since international travel restrictions were lifted last year, the airport has hired more than 700 security staff, while almost 4000 people currently work in Gatwick's shops, restaurants and bars, with more outlets due to open in coming weeks. 
Gatwick wants to invest in its long-term future and is preparing a planning application to bring the airport's Northern Runway into regular use, for departures only, alongside its Main Runway. This low-impact plan will improve resilience, reduce delays, and provide a significant boost to the regional economy by supporting trade, tourism and new jobs.