Budapest Airport breaks nine million passenger barrier
Posted: 18 December 2014 | Budapest Airport
Budapest Airport announces a major passenger traffic milestone by welcoming its nine millionth passenger and recording the highest ever number served in a single calendar year…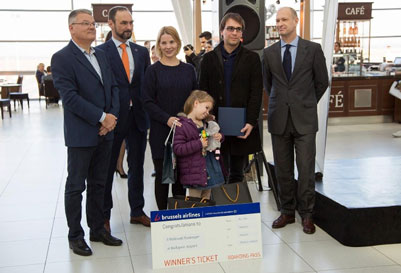 Jost Lammers, CEO, Budapest Airport (right) and Andreas Weingartner, Brussel s Airlines' General Manager CEE, Russia, Baltics, Balkans and Offline Europe (second left) and Fritz Janach, MD, Heinemann ( l eft) present Mr Andr á s Ujj and his family, the airport's nine millionth passenger, with celebrator y plaque to mark Budapest' outstanding milestone achievement.
Budapest Airport announces a major passenger traffic milestone by welcoming its nine millionth passenger and recording the highest ever number served in a single calendar year. Boosted by the airport's expansion of airline partners, route choice and increase in flight s, passenger traffic has grown by an impressive +7% throughout 2014. In the past 12 months a lone , the Hungarian gateway has welcomed five new airlines and started 10 new routes, a sum total of 40 airlines connecting the city with 88 destinations during the year.
Today's outstanding landmark was reached when passenge r Mr Andr á s Ujj and his family arrived at Budapest Airport on Brussels Airlines' morning flight from Brussels. To mark the occasion, the airport hosted a celebration, with a brass band laid on to welcome the surprised passenger from their flight. Given VIP treatment, Mr Ujj was accompanied i nto the SkyCourt where he w as presented with a number of gifts from the airport, including Heinemann and Leroy Restaurant vouchers, and a celebrator y plaque to commemorate the event.
"Transcending the magical nine million threshold is a huge step forward for us, as Budapest Airport has never, ever had this many passengers before," said Jost Lammers, the CEO of Budapest Airport. "We will continue to do everything we can to make Budapest and Hungary the fastest growing destination in the CEE region, and to ensure that business and leisure passengers as well as international investors and business partners should look upon Budapest and Hungary as an attractive place to be," he added.