Alaska Airlines honours fallen military at San Antonio Airport
San Antonio airport held a hand-off ceremony unveiling a new Fallen Hero Cart, which honoured all fallen military members.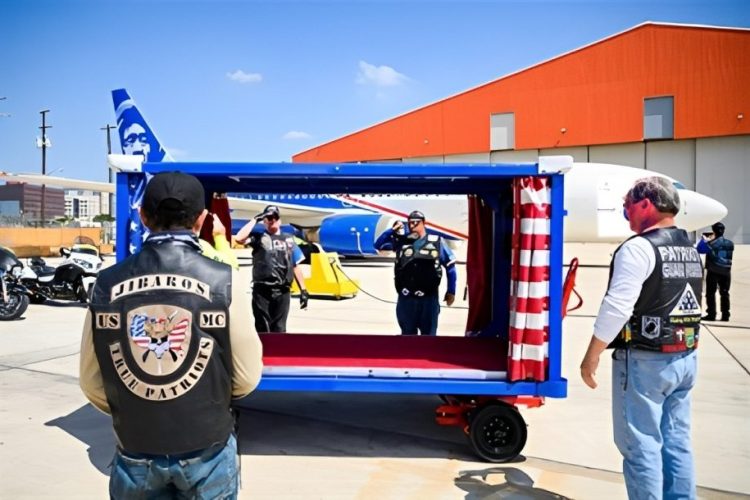 Alaska Airlines Fallen Hero Cart unveiled at San Antonio International Airport honours both active & Veteran military members
Alaska Airlines employees have partnered with San Antonio International Airport (SAT) and San Antonio Aerospace (a commercial aerospace unit of ST Engineering) to host a hand-off ceremony unveiling a new Fallen Hero Cart based at SAT.  The ceremony was held on 22 May 2023 and is the 14th cart crafted by the airline's maintenance team to honour all fallen military members (but the first delivered this year). Available to all SAT airlines, it is used to transport the remains of all of the deceased with respect and honour to and from the aircraft. 
"We are honoured to bring this cart to San Antonio," said Brian Bowden, founder of the Alaska Airlines Fallen Soldier Programme. "This programme is designed to make sure every military member, active, retired or veteran and their families are honoured for their service and sacrifice in a respectful dignified manner on their final journey. The goal is to have a cart at every station we serve."
This one-of-a-kind cart is specifically designed with an interior plaque dedicated to San Antonio and also acknowledges the important role of law enforcement. With blue paint, red carpet and American flag curtains, the customised cart's exterior also features plaques representing the Army, Air Force, Navy, Marines, Coast Guard and Space Force.
San Antonio is home to one of the biggest populations of active military and veterans in the United States and we are beyond proud to be officially known as Military City, USA®, " said Jesus Saenz, Director of Airports, San Antonio Airport System. "Having a Fallen Hero Cart here will be a special resource for our community and we are pleased to know all airlines at SAT will have access to it."
Partnering with ST Engineering for tarmac space, Alaska Airlines and Horizon Air each flew in their special military livery aircraft, "Honouring Those Who Serve" to be part of the ceremony. This is the first time two military livery aircraft have been able to join the hand-off. 
"Alaska Airlines has been a long-standing customer of ST Engineering and our airframe maintenance operations in San Antonio, where many of our employees are veterans or have family members in the military. We applaud this initiative by Alaska Airlines and it is a great honour for us to be of assistance in hosting this event, " said Irving Tjin, SVP/General Manager at San Antonio Aerospace. 
In May 2011, Alaska Airlines employees developed a structured Fallen Solider Programme to ensure strict military protocols are followed when transporting a fallen soldier. From this programme, Alaska Airlines employees designed the Fallen Hero Carts.