NATS handles traffic increase as Autumn begins
Posted: 13 November 2014 | NATS
NATS handled 197,313 flights during October, a rise of 1.5% compared to the same period last year…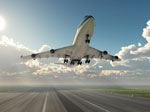 NATS handled 197,313 flights during October, a rise of 1.5% compared to the same period last year.
NATS-attributable delays totalled 4196 minutes last month, making it the third lowest October total since records began in 1996.
The UK market grew by 1.5% last month, with the Non-transatlantic Overflights sector leading the way again with a 4.6% rise and Transatlantic Arrivals/Departures also growing by 4.4%.
At nine out of the fifteen airports where NATS operates air traffic services there was a rise in scheduled air traffic. Stansted led this increase with a rise of 10.7%, Farnborough saw a rise of 9.9% and London City a rise of 6.3%.
Martin Rolfe, Managing Director Operations, NATS, said: "I am delighted that we are entering the autumn season on a high. Once again we have kept delays to a minimum in conjunction with a rise in scheduled traffic for this time of year, which is fantastic news for our airline and airport customers as well as passengers."
Related organisations
Related people