NATS opens dedicated Middle East office
Posted: 23 October 2014 | NATS
NATS has opened its headquarters for the Middle East and North Africa region, with a permanent office in Dubai, UAE…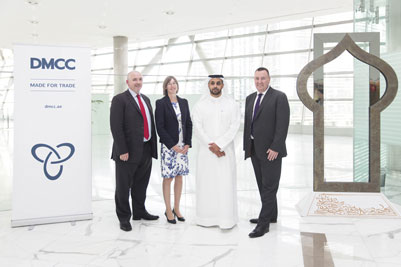 Ben Kiff, NATS Head of Proposition Development, Catherine Mason, NATS Managing Director, Services, Ahmed Bin Sulayem, Executive Chairman, DMCC and John Swift, NATS Middle East Director
NATS has opened its headquarters for the Middle East and North Africa region, with a permanent office in Dubai, UAE.
To mark the occasion, a number of its senior executives, including Catherine Mason, Managing Director, NATS Services, and John Swift, Director, NATS Middle East, met with Ahmed Bin Sulayem, Executive Chairman of Dubai Multi Commodities Centre, to discuss some of the most significant aviation opportunities and challenges facing the Gulf countries.
NATS also outlined its long term commitment to the region and its desire to work in collaboration with local service providers, regulators, airlines and airports, to find appropriate solutions to meet the aviation growth aspirations of the GCC (Gulf Cooperation Council).
NATS already has an impressive track record operating in the Middle East. In 2006, the company was contracted to design terminal airspace around Al Maktoum International Airport prior to its opening. The airport will eventually have six runways coping with an annual capacity of up to 160 million passengers. Paramount to the success of that project was a partnership approach, which delivered an agreement between all civil and military stakeholders regarding the use and the final re-designed airspace.
With the GCC states expected to serve 450 million passengers annually by 2020, and with total aircraft movements in the Gulf's airspace predicted to reach over 2.3 million, like many others within the aviation industry, NATS sees an urgent need for these countries to master its invisible infrastructure – its airspace.
John Swift, Director, NATS Middle East, said:  "A permanent, on the ground presence covering the region is a major milestone for us. Over recent years NATS has successfully completed projects in Kuwait, Qatar, Oman and the UAE, but having a dedicated regional office is a clear sign of our long term commitment to working in partnership with the aviation community, especially as it seeks to harness aviation as an economic engine for growth.
"Addressing airspace congestion within the Gulf remains a critical challenge, and our approach is to leverage our expertise and experience – including in some of the world's busiest airspace – to find solutions so that the GCC ensures it remains a global aviation powerhouse. Working in partnership as an industry is the key to the development and implementation of successful solutions, and NATS Middle East stands ready and willing to be an active part of that effort."
Ahmed Bin Sulayem, Executive Chairman, DMCC, said:  "At DMCC we focus on providing businesses ranging from start-ups to large corporates with everything they need to trade with confidence in Dubai so they can expand at an unrivalled pace. We welcome NATS to the DMCC corporate family – they are joining a thriving international, award-winning Free Zone that is also the largest and fastest growing in the UAE with around 9,500 member companies.
"It is encouraging to see large international entities like NATS, which operates in over 30 countries around the world, choosing to join the DMCC Free Zone. This is further testament to Dubai and DMCC's attractiveness to large corporates as they look to grow and access new markets in a business friendly and competitive environment."