First CO2 neutral Towed Jet Sweepers for Swedish Airports
Posted: 20 October 2014 | Aebi Schmidt
The state-owned company Swedavia aims to make all 10 airports in Sweden carbon-neutral year 2020…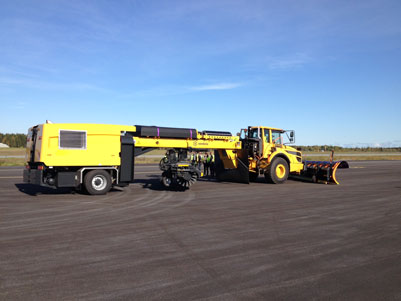 Schmidt TJS at Arlanda Airport, 1st October 2014
The state-owned company Swedavia aims to make all 10 airports in Sweden carbon-neutral year 2020. In partnership with the Volvo Group, started therefor Aebi Schmidt to develop what is today the world's first "Green runway Sweeper (Jet Sweeper TJS). This new TJS is powered by Volvo engines fuelled by a mixture of biogas and biodiesel. Now Aebi Schmidt will deliver a full series of 29 new carbon-neutral machines to Swedavia.
Aebi Schmidt as an international manufacturer and system provider of innovative technical products feels obliged to support its customers, be a partner for them and want them achieving their goals. In addition to that  Aebi Schmidt is aware of its social and ecological responsibility with regard to climate issues as these are some of the major challenges we all are facing today.
Air traffic accounts for approximately 3% of the global CO2 emissions. It's not only planes flying from one destination to another but the infrastructure that goes with it, the ground handling, and  the  maintenance of the runways and taxiways of the airport such as snow removal. The "Green TJS" brings together sustainability and economy in airport snow removal for the first time. The TJS machines are made for fast, effective, and intensive cleaning of runways, taxiways, aprons and supply roads. This counts also for the Green TJS. High working speed and manoeuvrability are the key issues of this product. It's about two major issues: sustainability and economic well-being.
The Green TJS is powered by Volvo engines fuelled by a mixture of biogas and biodiesel but with this new  TJS nothing changes for airport operators or ground handlers. The Green TJS does not differ in power from other TJS machines operating with a conventional Volvo engine. It is equipped with an efficient airport snow plough which produces snow and ice-free surfaces. The hydraulically powered sweeping unit is located under the supporting frame and can be locked lengthwise for transport. The blower unit generates a lateral air flow of up to 145 meters per second over the complete width which blows away the snow across the runway. The Green TJS by Schmidt can operate without refuelling for over six hours and is capable of working in difficult weather conditions over longer periods. Depending upon snow quantity and height the machine can work at a speed of up to 50 km/h.
We strongly believe that Swedavia will be in a leading role to showing airports worldwide how to contribute to the climate change while operating on a carbon-neutral basis without compromising the performance of the machines in use.
Related topics
Related organisations