Global study ranks world's most efficient airports for 2014
Atlanta International Airport is the most efficient airport in the world, according to a comprehensive ranking of global airports, conducted by a team of international aviation academics at the University of British Columbia's Sauder School of Business…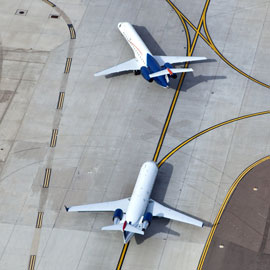 Atlanta International Airport is the most efficient airport in the world, according to a comprehensive ranking of global airports, conducted by a team of international aviation academics at the University of British Columbia's Sauder School of Business.
The ATRS Global Airport Benchmarking Report compares the operational and management efficiency, as well as cost competitiveness, of 200 airports and 26 airport groups in North America, Europe, Asia and Oceania.
Copenhagen, Busan-Gimhae and Sydney led their respective continents in overall efficiency, while Vancouver International Airport was Canada's top performer among airports serving more than 15 million passengers per year,
"Our report finds that the highly efficient airports are more likely to generate a large share of total revenues from concession and other retail activities in terminal buildings, as well as parking, office rentals, and real estate development on airport lands," says UBC Sauder School of Business Prof. Tae Oum, who led the study. "We can also see that airports that outsource terminal services, ground handling and other services also achieve high efficiency."
Oum says the benchmarking report shows that more efficient airports offer lower aircraft landing fees and passenger terminal charges, leaving more money in travellers' pockets.
Atlanta generated 65 per cent of its total revenue from non-aviation activities, compared to the average of North American airports, which derived about 50 per cent of their income from the alternative sources. This marks the eleventh year Atlanta has placed first in the rankings.
The world's most efficient international airports
North America
More than 15 million annual passengers
Hartsfield–Jackson Atlanta International Airport (USA) Charlotte Douglas International Airport (USA) Minneapolis -St. Paul International Airport (USA)
Fewer than 15 million annual passengers
Oklahoma City World Airport (USA)
Calgary International Airport (Canada) 3. Raleigh-Durham International Airport (USA)
Canada
Overall
Vancouver International Airport
Victoria International Airport
Calgary International Airport
Europe
More than 15 million annual passengers
Copenhagen Kastrup International Airport (Denmark) 2. Zurich (Switzerland) 3. Oslo Airport (Norway)
Fewer than 15 million annual passengers:
Athens International Airport (Greece)
Geneve International Airport (Switzerland)
Basel Airport (Switzerland)
Asia
Overall
Busan Gimhae International Airport (South Korea)
Jeju International Airport (South Korea)
Hong Kong International Airport
Oceania
Overall
Sydney Airport (Australia)
Dunedin International Airport (New Zealand) 3. Melbourne Airport (Australia)
The ATRS Global Airport Benchmarking Report, which first launched in 2000, is the most comprehensive independent evaluation of global airport performance.
The report ranks management efficiency using a ratio that divides the output index (total number of aircraft movements, passenger and cargo volumes and non-aeronautical revenue generation) by the input index, which consists of full-time equivalent employees and other operational inputs, including outsourced services.