MIAL presents CSIA employees & stakeholders with "Airport Service Quality" Awards
Posted: 31 March 2010 | Ogilvy Public Relations Worldwide | 1 comment
In an ongoing effort to reiterate its commitment & dedication to provide quality services to passengers, MIAL presented…
In an ongoing effort to reiterate its commitment and dedication to provide quality services to passengers, Mumbai International Airport Pvt. Ltd. (MIAL) presented the "Airport Service Quality" Awards to CSIA employees and stakeholders on Friday, March 26, 2010 at a well-attended ceremony in Mumbai. The award is aimed at creating awareness of service quality, encourage airport staff to strive for service excellence and reward those who have rendered admirable services to passengers. This program is an extension of the awareness campaign "Yes We CARE", part of the Service Quality drive launched by MIAL in September last year.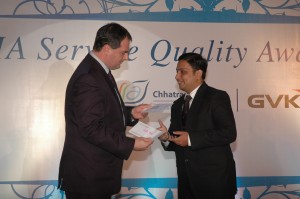 Danish Mapari of Livewell Aviation Services was chosen as the Service Personality Champion. He took home a cash prize worth Rs. 20,000, a South East Asian holiday tour package for two and a commendation certificate. He was chosen for his exemplary service provided to an elderly Australian passenger who was off loaded and stranded due to lack of official documentation required for his final destination. Danish offered a night of stay at his residence to the passenger and helped him complete all the necessary documentation required before sending him off on the next available flight to his destination.
The program received overwhelming nominations from all airport stakeholders which primarily included staff from the Central Industrial Security Force (CISF), Immigrations, Customs, all domestic and international airlines, ground-handlers and airport concessionaires. These were judged by a panel comprising of members from the CSIA ASQ (Airport Service Quality) Task Force. The nominations were shortlisted and evaluated on parameters such as outstanding nature of services, consistency, impact of services rendered and ably supported by commendation letters from passengers. Those who performed beyond the call of duty were specifically chosen.
Speaking on the occasion, Bryan Thompson Director Operations, Mumbai International Airport Pvt. Limited (MIAL) said, "At MIAL, we believe in providing quality service to our passengers and our "Yes We CARE" campaign is a testament to this. With this initiative, we are delighted to honour CSIA employees and all other airport stakeholders for their consistent commitment to achieve the quality standards set by us ".
Meanwhile, seven consolation prizes were also given out, with each winner receiving cash prizes worth Rs. 2,000 along with commendation certificates.