Edinburgh Airport named 'Airport of the Year' at Scottish Transport Awards
Edinburgh Airport was named 'Airport of the Year' for the second consecutive year at the Scottish Transport Awards in Glasgow last night…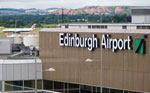 Edinburgh Airport was named 'Airport of the Year' for the second consecutive year at the Scottish Transport Awards in Glasgow last night.
Singled out by the judges for consistently providing the best experience for its passengers, the award recognised the airport's most successful year ever in 2013 which saw a record 9.8 million passengers travel through its terminal and the announcement of major new routes and investment for 2014.
Chief Executive, Gordon Dewar, said: "To be named 'Airport of the Year' for the second year in a row is an amazing achievement. It's a true testament to the hard work of everyone at Edinburgh Airport who demonstrates their commitment to our passengers every day.
"It's fantastic to be recognised for our work and I'm very proud to share this award with my colleagues.
"Last year was our most successful year ever and one in which we experienced record-breaking passenger numbers and milestone agreements to bring major long-haul services to Edinburgh. These new routes launched last month and attracted world-wide attention.
"This award reinforces Edinburgh Airport's position as where Scotland meets the world."