2013 – a good year at Warsaw Chopin Airport
It was the first year ever that Warsaw Chopin Airport served over 10 million passengers…

It was the first year ever that Warsaw Chopin Airport served over 10 million passengers. Chopin Airport has never served so much traffic before. But it was just one of many positive developments welcomed at the end of 2013.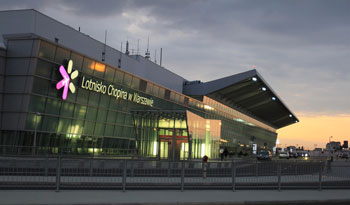 According to earlier forecasts the traffic at Chopin Airport in 2013 was expected to be lower than in the year before, given that Warsaw Modlin Airport was to open for business and low cost carriers were to move their operations there. It was one of the reasons why the old part of Terminal A in Warsaw Chopin Airport was closed for redevelopment right after the Euro 2012 tournament. The longer runway 3 was also closed for major repairs.
"Hardly possible to foresee, the difficulties in Modlin Airport brought about, as a consequence Ryanair and WizzAir's decision to move operations to Chopin Airport, which meant we had to handle and cope with the highest amount of traffic ever recorded in the history of Warsaw Chopin Airport. This posed a great challenge and required tremendous commitment of all our airport services. Still, we were successful – the airport operations ran smoothly, without major disruptions," comments Michał Marzec, Director of Warsaw Chopin Airport. The airport's other recent achievements include the Fair Employer status awarded to "Polish Airports" (the enterprise managing Chopin Airport), along with the prestigious Pearl of Polish Economy and Ambassador of Polish Economy statuses. The readers of Business Traveller Polska commended Chopin Airport as the Best Airport in Poland. Also, for the third time running Warsaw Chopin Airport obtained the certificate under the Airport Carbon Accreditation programme contributing to the reduction of carbon dioxide emissions.
A slight decrease in the number of passengers in Warsaw Chopin Airport is expected in 2014. "There are several reasons for this: Ryanair, an airline that handled about million passengers in 2013, does not operate from Chopin Airport anymore. LOT has also reduced the number of offered seats due to the ongoing restructuring programme. However, we are pleased to take note of the fact that the network of direct routes from Warsaw has been growing steadily and the offer for passengers is now getting even more attractive," says Michał Marzec.
We know right now that at least 13 new routes are going to be launched in 2014. In January, Eurolot starts a new seasonal service to Salzburg, Austria and in April other seasonal routes to Dubrovnik, Split and Zadar in Croatia, and to Herringsdorf in Germany. Norwegian will start operations to Malaga, Spain in February, and to Barcelona in June. Norwegian also announced it would start a new service to Madrid as well. Germanwings, a German low cost carrier, will start operating to Cologne at the end of March (as well as take over the operations on the routes to Dusseldorf and Stuttgart, now run by Lufthansa), whereas Slovenian air carrier, Adria Airways will launch a new route to Ljubljana early in April. Also in April, Spanish Vueling plans to operate its first flight from Warsaw to Barcelona.
Air Serbia has declared start operations to Belgrade in May, Alitalia is due to announce new service from Warsaw to Milan. In addition, Wizz Air announced they would expand their base in Warsaw to include another, fourth aircraft and they are considering new routes as well.
"It seems that 2014 will be just as interesting for Warsaw Chopin Airport as 2013," underlines Mr Marzec.
Please watch our time-lapse video in Chopin Airport's You Tube channel: http://www.youtube.com/watch?v=LQp-3Sgxjig
Related topics
Related airports
Related people