Virtual assistant helps passengers check in at Chopin Airport
Chopin Airport has installed the so-called Virtual Assistant to help passengers with self-service check-in…

Chopin Airport has installed the so-called Virtual Assistant to help passengers with self-service check-in, the first of its kind in Poland and one of the first in Europe.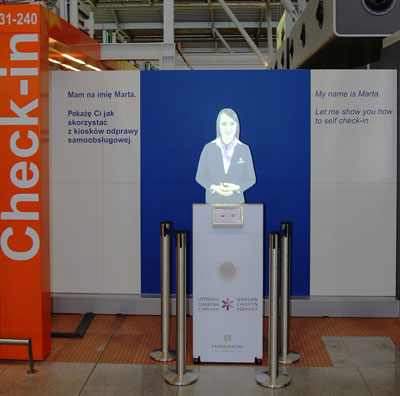 Now passengers don't have to look for airport personnel to ask how to use self-service check-in kiosks, which documents they have to prepare or how to print a boarding pass. All these questions can be answered in English and Polish by the virtual assistant.
To activate the device, passengers have to press a button. The virtual assistant will then provide standard information needed to complete check-in. The user feels as if they are talking to a real living person, because the screen displays a realistic image of a smiling young woman, who keeps eye contact, moves and gesticulates while talking. She is wearing a uniform with Chopin Airport's logo and a scarf in the airport's colours around her neck, projecting the impression that the passenger is talking to an airport information desk employee personally.
Tomasz Prokopiuk, manager of Chopin Airport Passenger Processes and Service Quality Section, said: "The virtual assistant is an attention-grabber and is very effective. It encourages passengers to use self-service check-in kiosks, showing them how easy it is. This makes this form of check-in more efficient and adds a high-tech dimension to Chopin Airport's image".
Similar devices (older generation) are used in other European and American airports, including those in Boston, Washington, Frankfurt, London and Edinburgh, mostly to give tips for getting through security, check-in, passport control and customs clearance.