Airport Authority records interim profit of HK$3.2 Billion for 2013/2014
Posted: 18 November 2013 | Hong Kong International Airport | No comments yet
Revenue and profit attributable to the equity shareholder increased 14.7%…

Airport Authority Hong Kong (AAHK) today announced its unaudited interim financial results for the six months ended 30 September 2013. Revenue and profit attributable to the equity shareholder increased 14.7% and 17.0% respectively over the same period last year, to HK$7,337 million and HK$3,215 million.In the first half of fiscal 2013/2014, all three air traffic categories at Hong Kong International Airport (HKIA) achieved healthy growth, with new monthly records for both passenger volume and flight movements set consecutively in July and August. The airport handled a total of 30.5 million passengers, 2.04 million tonnes of cargo and 187,000 flight movements from April through September 2013, registering year-on-year increases of 6.3%, 1.8% and 6.4% respectively.
Stanley Hui Hon-chung, Chief Executive Officer of AAHK, said, "Steady growth in air traffic, increasing passenger spending and stringent control over operating expenses contributed to satisfactory half-year financial results. In particular, retail licences and advertising revenue saw significant year-on-year growth of 30.2%, amounting to HK$3,066 million during the period under review."
William Lo Chi-chung, Executive Director, Finance of AAHK, said, "We are pleased with the strong financial performance for the first six months, which was primarily the result of traffic growth as well as retail and advertising revenue growth arising from the awarding of a few major retail licences in late 2012. We forecast the momentum of traffic growth will continue in the remainder of the financial year, and we are therefore cautiously optimistic of our 2013/2014 full-year financial performance."
Mr Hui added, "To meet the airport's increasing traffic demand, we have been working hard to achieve the target of commissioning the midfield concourse by the end of 2015, which will allow us to serve an additional 10 million passengers a year.
In addition, a total of 48 parking stands, including 20 at the midfield concourse, are being made available in phases before the end of 2015. Of the 48 new stands, six of them became operational this July, and another six will be completed by the end of this year. These expansions are critical to manage the faster-than-forecast traffic growth," explained Mr Hui.
Planning work is also being carried out to expand HKIA into a three-runway system. AAHK reiterated its commitment to managing the planned expansion in the most prudent and professional manner possible, citing its transparency to date in engaging various stakeholders and the wider community on the development's progress. These have included on-going communications such as briefings, meetings, seminars and airport visits, as well as a four-day exhibition and two public forum sessions on the Environmental Impact Assessment that were organised in August.
In addition, AAHK reported that HKIA, which celebrates its 15th anniversary this year, continued to receive global recognition for service excellence and operational efficiency. In October the airport was inducted into the Travel Hall of Fame at the TTG Travel Awards after being crowned as "Best Airport" 10 times since 2002. Last week HKIA was named the "Best Airport in China" by another renowned industry publication Business Traveller, an award that has been bestowed upon the airport seven times in the past eight years.
During the period under review, HKIA saw increases in cross-boundary traffic as well as air traffic growth. The number of passengers using SkyPier grew 6.5% year on year to 1.4 million, and approximately 1.02 million passengers travelled between HKIA and the Pearl River Delta region by coach and limousine, representing 3.6% growth.
The 2013/2014 interim financial results were reviewed by an independent auditor and approved by the Board of the Airport Authority.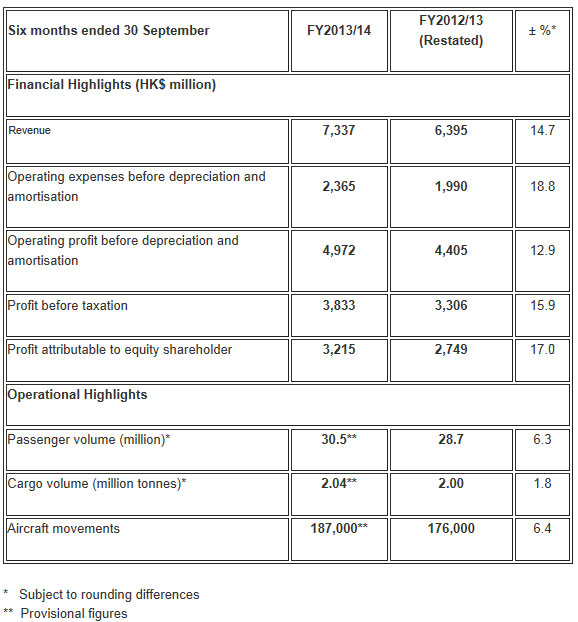 To view the AAHK's Interim Report, please go to: http://www.hongkongairport.com/eng/pdf/media/publication/report/interim/2013.pdf
Related airports
Related organisations
Related people