M.A.G and Ryanair sign ten-year growth agreement at London Stansted
Agreement will see the airline increase the number of passengers to more than 18 million by 2018…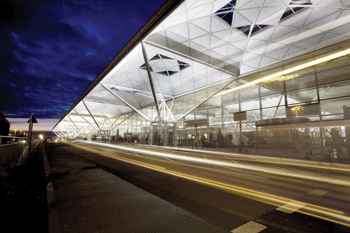 London Stansted's terminal building
M.A.G, the new owners of London Stansted, and Ryanair have today announced a new long-term growth agreement which will see the airline increase the number of passengers it serves at the airport from just over 13 million a year to more than 18 million by 2018 and then upwards to nearly 21 million passengers a year by 2023.
The new growth agreement comes just six months after M.A.G completed its acquisition of the airport. Ryanair, Stansted's largest airline serving over 140 destinations during the past 12 months, has also announced four new routes from the airport for summer 2014. The new destinations – not currently served from Stansted – are Lisbon, Bordeaux, Dortmund and Rabat (Morocco).
Ken O'Toole, M.A.G's Chief Commercial Officer, said:
"The new long term agreement between Ryanair and MAG at Stansted shows that competition really does work, and it represents great news for both passengers and UK businesses. The deal secures a new and exciting era for both Ryanair and Stansted, and we're delighted to be supporting the airline's growth over the next ten years.
"We acquired Stansted in February this year believing we could significantly expand the services on offer by competing more effectively to make the most of the airport's untapped potential and spare capacity. We were confident Stansted would grow if we offered great value to airlines, increased passenger choice and better services and facilities.
"Today's announcement, coupled with our £80m investment in the terminal, confirms that Ryanair shares our confidence, and shows how we are succeeding in transforming Stansted under new ownership. Stansted has a really bright future in providing international connectivity for the UK."
"Over the next five years, M.A.G wants to make Stansted the best airport in London so we will continue to compete hard to win business from airlines in our drive for passenger growth and to provide customers with even more choice."
Michael O'Leary, Ryanair's Chief Executive, said:
"Ryanair is pleased to have agreed a new 10 year growth deal at London Stansted with M.A.G. This deal will see our Stansted traffic grow by over 50%, from 13.2m in 2012 to over 20m p.a. in return for lower costs and more efficient facilities at Stansted. This agreement proves how UK airports can flourish when released from the dead hand of the BAA monopoly and is the first dramatic initiative by M.A.G to reverse 7 years of decline, during which Stansted's traffic fell from 23.8m to 17.5m.
"As Stansted's biggest airline, Ryanair looks forward to a decade of growing traffic, routes and jobs at Stansted. We have also released our Stansted summer 2014 schedule with 120 routes, including 4 new routes to Bordeaux, Dortmund, Lisbon and Rabat, which have gone on sale today on the www.ryanair.com website."