Passenger numbers soar to nine million at Birmingham Airport
Passengers take advantage of the Airport's world-class facilities and its growing network of flights.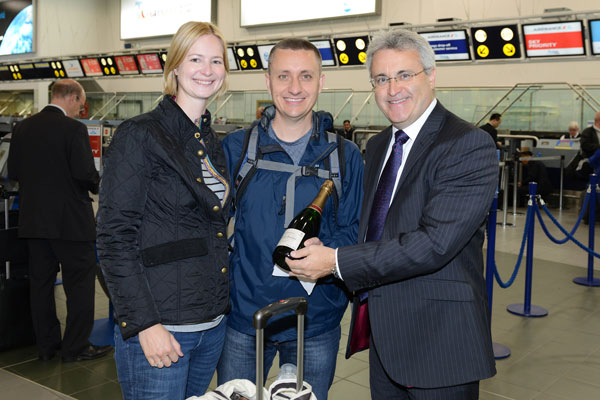 (LtoR): Passengers Andrea Buchner and Jonathan Gumz were presented with a celebratory bottle of champagne by Birmingham Airport CEO, Paul Kehoe, for being the 9 millionth passengers to pass through the Airport; they were flying with Air France on a connecting flight to Chicago.
Birmingham Airport is celebrating another major milestone, as passenger numbers for the year reach nine million.
Over the past 12 months, nine million people chose to fly from Birmingham, taking advantage of the Airport's world-class facilities and its growing network of flights.
The nine million milestone was achieved after the Airport enjoyed the second busiest month in its history during August. The Airport handled over one million passengers last month, a 2% increase compared to the same period last year.
August also saw the Airport record its busiest day of the year so far, as 36,781 people passed through the terminal on Friday 23rd.
Paul Kehoe, Chief Executive of Birmingham Airport, said: "These passenger figures clearly demonstrate there is strong demand for flights from Birmingham. We've seen a period of sustained growth throughout the past 12 months, welcoming nine million passengers to the Airport.
"We've also enjoyed a strong summer performance too, recording the second busiest month in our history, as passengers enjoy the benefits of our state-of-the-art facilities and expanding network of flights. These growing passenger figures, coupled with the extension of our runway, which is due to be complete in spring 2014, certainly provides encouraging signs for the future."
Passenger numbers at the Airport have been given a significant boost thanks to the introduction of new airlines including Air India, who recently began operating flights four times weekly to Delhi and Amritsar, using the Boeing 787-8 'Dreamliner' aircraft in August.
The continued expansion of other airlines including Monarch and Aer Lingus has also been a key factor in attracting new passengers to Birmingham. Turkish Airlines increased its daily flight programme from seven to ten flights a week to Istanbul back in April, providing onward connections to 221 destinations worldwide.
Between September 2012 and August 2013, popular destinations for passengers flying from Birmingham included Amsterdam, Paris and New York. However, Dublin proved to be most popular, for those visiting friends and relatives, closely followed by Dubai, for onward connections to the Far East and Australia.