Mr. Patrick Ky took over as Executive Director of the European Aviation Safety Agency
Posted: 1 September 2013 | European Aviation Safety Agency (EASA) | No comments yet
Before leading EASA, Mr Ky was the Executive Director of SESAR…
Mr. Patrick Ky took over as Executive Director of the European Aviation Safety Agency on September 1, 2013.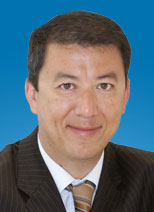 Before leading EASA, Mr Ky was the Executive Director of SESAR and prior to that he held different managerial positions in the French Civil Aviation Authority, a consulting company, and Eurocontrol.
In total, Mr Ky has more than 23 years of work experience in Civil Aviation. A graduate of the École Polytechnique and the Civil Aviation Engineering School in France, Mr Ky also holds degrees in economics from the University of Toulouse and the Massachusetts Institute of Technology.
Related organisations
Related people