New hangar at Chopin Airport
A new hangar for technical maintenance has been built at Chopin Airport. It can accommodate code C aircraft with a wingspan of up to 36 m…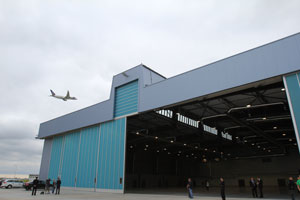 A new hangar for technical maintenance has been built at Chopin Airport. It can accommodate code C aircraft with a wingspan of up to 36 m.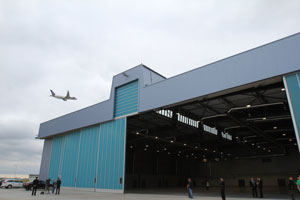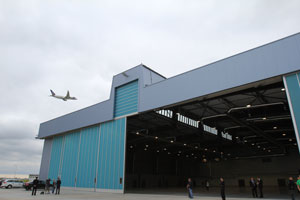 The new hangar is located next to the Blue Jet hangar in the western part of the airport, in the triangle between the runways.
The total area of the hangar is approx. 4,000 sq. m, with a volume of more than 45,000 cubic metres. The building is 45 m wide, 56 m long and nearly 17 m at its highest point (tall enough to fit the aircraft stabiliser). As a result, the hangar can accommodate code C aircraft, which are the ones most frequently operating at Chopin Airport (e.g. Boeing 737 and Airbus A320).
"The new hangar increases the attractiveness of Chopin Airport as a place where airlines can open their operational bases and service their planes. There's a huge interest in hangar services in the industry," said Piotr Nalej, director of Chopin Airport Commercial Bureau.
The construction also included an apron in front of the hangar and an administrative and technical facility at its back, together with an access road and a car park.
The General Contractor was Land Development. The construction cost 15.6 million zlotys. The hangar is planned to be rented out to a third party.
Chopin Airport is the biggest airport in Poland and one of the biggest in Central Europe. In operation since 1934, it handles scheduled, charter, General Aviation and cargo traffic. In 2012 the airport welcomed over 9.6 million passengers. The airport is served by 32 scheduled airlines (including four low-cost air carriers), offering flights to 101 destinations in 42 countries on four continents in the 2013 summer season.