Airports Commission Chief invited to meet north air campaigners
The head of the influential Airports Commission has been invited to meet north air campaigners in Inverness…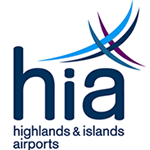 The head of the influential Airports Commission has been invited to meet north air campaigners in Inverness to discuss the future of regional access to the UK's hub airports.
Inglis Lyon, Managing Director of Highlands and Islands Airports Ltd (HIAL), and Fraser Grieve, Highlands and Islands Manager for SCDI, have written to Sir Howard Davies, the Chair of the Airports Commission, which was appointed by the UK Government to consider the future of air capacity in the UK. The Commission is expected to publish its interim findings at the end of this year, with a more thorough report due after the 2015 General Election.
In a letter to Sir Howard, Inglis Lyon said: "HIAL operates a network of 11 regional airports across Scotland, serving some of the most remote regions of Scotland. For these communities air travel is the only means of long distance travel. Even Inverness, the capital of the Highlands, is relatively isolated. The rail network is patchy, expensive and slow. There are no motorways and only limited stretches of the main artery into Inverness – the A9 – has dual carriageway. A road journey to Glasgow or Edinburgh typically takes in excess of three hours.
"In our more remote island locations, the challenges are even more acute. For these communities, air travel provides a vital social and economic lifeline, and an essential means of connecting people and businesses.
"It is absolutely essential therefore that we maintain a diverse network of routes from our airports, including access to the UK's main business centres."
He pointed to the campaign to maintain access between the Highlands and London Gatwick, following the sale by flybe of its Gatwick slots. Although campaigners had secured a positive deal for Inverness Airport from easyJet, which bought the slots, he said the sale had "raised wider concerns about regional access to London's main hubs, an issue which has become more urgent in recent years as capacity constraints and rising costs have seen the number of regional airports with access to Heathrow and Gatwick decline."
He also highlighted the recent SCDI report which found that 50,000 passengers are lost to other Scottish airports from Inverness because of the lack of a direct link to Heathrow. The lack of such a link "damages our business competitiveness and attractiveness as a tourist destination, he added.
He continued: "It is our hope that the Inverness – Heathrow service can ultimately be restored. However, given the capacity constraints at Heathrow, it is unlikely in the short term. Our aim, in the meantime, is to support those alternative hubs, Gatwick and Amsterdam, to ensure that connectivity from the north of Scotland is not further eroded."
Mr Lyons' letter echoes an earlier invitation to Sir Howard from SCDI's Highlands and Islands Manager, Fraser Grieve.
Mr Grieve said: "As SCDI's recent report into air connectivity between Inverness and London highlighted, it is vital that businesses across the north can travel to and through London by air.
"The north of Scotland is making a major contribution to the UK's economic recovery and we have strong prospects for growth in emerging markets. Global connectivity is essential to growing businesses here.
"I hope that Sir Howard will be able to meet with us in order to hear our concerns and we will continue to work with others to make the strongest case possible for our future air connections."