Stansted Airport celebrates 70th anniversary
"I am delighted to welcome so many distinguished guests here today to celebrate the 70th anniversary…"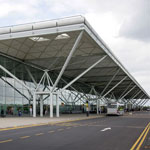 70 years celebrated by Thunderbolt flypast and unveiling of memorial
American WWII veteran jets in as special guest of honour
Stansted was one of the largest US bases in East Anglia and was home to the 344th Bomb Group, known as the 'Silver Streaks'
The 'Silver Streaks' led the US Air Force into action on D-Day from Stansted
An American World War Two hero was the special guest of honour on Friday, July 27, as Stansted Airport celebrated the 70th anniversary of its runway and historic roots as a wartime airfield with a spectacular flypast and memorial ceremony.
Retired 344th Bomb Group flying ace, 88 year old Major Edward W. Horn, flew in especially from America to be part of the ceremony to recognise the completion of the main wartime runway by U.S. Army Engineers in 1943 and the vital role George Washington Field, as Stansted was known then, as an operational base during World War Two.
Together with Colonel Travis, Air Attaché from the U.S. Embassy and Lieutenant Colonel Timothy Kuehne, the Commander of the 351st Air Refuelling Squadron, an emotional but very proud Major Horn helped plant a commemorative tree and unveiled a memorial to the airmen stationed at Stansted
Major Horn, who became a German prisoner of war after he was shot down over France on his 23rd mission from Stansted in 1944, said:
"70 years ago, I was flying my B-26 Marauder off this runway, and now I stand here today in remembrance of my fellow 344th Bomb Group airmen, and in honour of those who did not return from their missions."
Attending the event on behalf of the U.S. Embassy, U.S. Air Attaché Colonel Travis Willis, said:
"We are honoured to be able to represent the U.S. Air Force here today. This airport and its history are further evidence of the special and essential relationship between the US and the UK that I see alive and well in my work here every day. Major Horn and the other American airmen who served here fought alongside their British counterparts to protect the freedom and values we all hold dear. Their brand of shared service and sacrifice is not just part of our history, but a reality of our present, in Afghanistan and elsewhere. I am so pleased that the airport we worked together to build all those years ago remains a vital part of today's Britain, and that the US and UK remain just as close today as we were then."
Invited guests attending today's unique occasion, which included the High Sheriff of Essex and representatives from the U.S. Air Force, U.S. Embassy, Air Cadets, Royal British Legion, Imperial War Museum Duxford and airport, were treated to an impressive fly past by a WWII P-47 Thunderbolt and a1940s styled reception at the exclusive Inflite Jet Centre.
Andrew Harrison, Stansted Airport's Managing Director, said:
"I am delighted to welcome so many distinguished guests here today to celebrate the 70th anniversary of Stansted Airport's runway and its origins as a wartime airfield. Not only is this a tribute to the airport's illustrious past but it just shows what an integral role Stansted continues to play in our community and the wider region.
"To be able to welcome Major Edward Horn back to the airport for the first time in years is a particular poignant and humbling moment for me. We should be proud that our airport played a pivotal role in the allied victory, and a lot of this success is down to people like Major Horn and his fellow airman – many who tragically didn't return to our shores. We owe them all an immense debt of gratitude for kindly giving us what is still one of the UK's longest runways and the heartbeat of today's world class airport.
"Stansted is very proud of its past and the critical role the airfield played during World War Two as a U.S. Air Force base. It's amazing to now look back and acknowledge those early efforts have ultimately culminated in the Stansted Airport we see today."
Ryanair, Stansted's largest airline, helped celebrate the anniversary and bring a modern flavour to the day by flying in a Boeing 737-800 and positioning it alongside the P-47 Thunderbolt for the ceremony. Ryanair's Robin Kiely said:
"Ryanair is pleased to join in today's celebrations to mark the 70th anniversary. In just 26 years, Ryanair has carried 169m passengers to and from Stansted and we currently operate 118 routes. We look forward to bringing even more passengers to and from Stansted throughout 2013 and beyond."
The decision to build an U.S. Air Force base close to the village of Stansted Mountfitchet was taken by the British Government and American Military in 1942. The airfield became the 9th largest U.S. Air Force base in East Anglia and was home to the 344th Bomb Group, known as the 'Silver Streaks, consisting of four squadrons of B-26 Marauder bombers.
The airfield became fully operational in February 1944, but the runway had its first unexpected arrival on February 26, 1943, when a battle damaged R.A.F Short Sterling bomber made an emergency landing after returning from a raid over Germany.
266 missions were flown from Stansted, with a total of some 7,000 tonnes of bombs dropped on targets in France and the Low Countries. D-Day saw the Stansted bombers leading 600 aircraft over the beaches of France to attack enemy positions. In July 1944 the Bomb Group received a Distinguished Unit Citation for three days of intense action supporting the allied invasion.
By August 1945 all U.S. forces had moved out but they returned in the 1950s to strengthen and extend the runway to 3,048 metres, leaving the airport with what remains to this day, one of the UK's longest runways. At the time of construction, US Engineers would have been unaware that thanks to their skill and expertise, Stansted would 70 years later be London's third busiest airport serving over 17.5 million passengers a year through one of the world's most iconic terminal buildings.