Frankfurt Airport supports charities – bottle return machine with donation option installed
Frankfurt Airport has now installed a bottle return machine…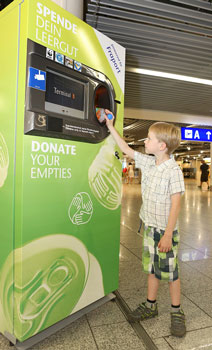 Aviation security regulations require passengers to dispose of their liquids containers at the security checkpoint.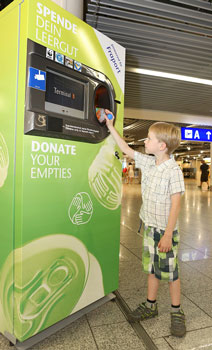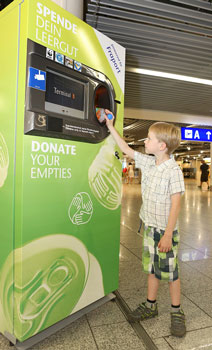 Thus, all bottles and cans – valuable recyclable material – end up in the garbage. Furthermore, the deposit charged on the containers, as required by law, is equally lost. To remedy the situation, Frankfurt Airport has now installed a bottle return machine in Terminal 1 Departures, offering passengers a convenient way to dispose of their bottles and cans. This is environmentally conscious and, at the same time, supports international and local charities. Thanks to a special feature of this custom-made machine, the full deposit fee is donated to four non-profit organizations.
As an internationally known organization the WWF World Wide Fund for Nature, featuring the Panda symbol, is one option. By clicking on the LOG (Luftfahrt ohne Grenzen – Aviation Without Borders) logo, passengers support this relief organization. In addition to material donations, LOG organizes and coordinates the transport of people and humanitarian aid by air.
Passengers who prefer to support charities in the Frankfurt region may decide for the Frankfurter Tafel, an organization donating food to the needy, or the Franziskustreff, a Frankfurt-based fund for the homeless. If no choice is made, the donation automatically goes to the WWF.
Veronika Iseler from the Product and Process Development division of Fraport's Terminal Management explains: "The consistently positive feedback from our passengers confirms that we are on the right track with this idea. We do see, however, that for the time being the facility is being used mainly by German passengers. This is understandable because Germans are more familiar with the deposit system than some of our international visitors. We are trying to attract the attention of our non-German guests by improving the positioning of the facility and by providing signs; as a matter of fact these measures are already bearing fruit." Should the feedback remain positive, the return system will be installed at other locations throughout Frankfurt Airport.