London Southend Airport helps solve the South East air capacity shortage
Major new capacity opens at airport following a record breaking first year with more key developments planned…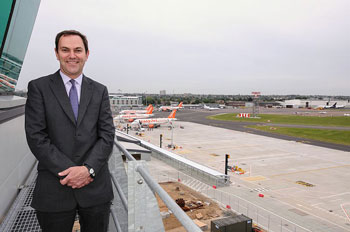 Alastair Welch in front of the LSA apron
London Southend Airport recently celebrated its first birthday as a regenerated regional airport and its busiest year ever – but further new capacity is coming available to support the airport's growth, allowing it to make a real difference to the issues faced across the other London airports.
Five additional aircraft stands have now been completed and significantly increase the airport's capacity. These stands are part of the expansion of the new passenger terminal and follow hot on the heels of the opening of the Arrivals development last week.
London Southend Airport MD Alastair Welch said 'With much debate about future airport capacity in the South East, our investment demonstrates the very significant capacity which now exists at London Southend and we are actively engaging with the Davies Commission to ensure the airport's potential is understood as part of the commission's deliberations. The five new stands we have opened this week form a small part of the capacity development underway at the airport. '
Over £100 million has been invested in London Southend Airport since it was acquired by the Stobart Group in 2008, with more than 500 new jobs created on site. New facilities include a train station on the London Liverpool Street (just 53 minutes into the heart of the City with up to 8 trains each hour) just 100 paces from the terminal building, a runway extension , Air Traffic Control Tower and Holiday Inn hotel.
721,661 passengers used London Southend Airport in the year to the end of February 2013. That beats the previous record of 692,000 which was set back in 1967, when it was the third busiest airport in the UK (second only to Heathrow and Manchester). It expects to reach the one million landmark in the next few weeks.
London Southend Airport was also rated highest (92%) in easyJet's Customer Satisfaction Survey across all its European airports and scooped the prestigious ERA (European Regions Airline Association) Airport Achievement Award 2012/13 – the second time in three years it has achieved this top honour.
easyJet already operates services to Amsterdam, Alicante, Barcelona, Belfast, Edinburgh, Faro, Geneva, Ibiza, Jersey, Malaga, Mallorca and Venice – and is accelerating plans to further grow at the airport. Aer Lingus Regional, operated by Aer Arann, has three daily return services between LSA and Dublin, where travellers are able to take advantage of transatlantic connections to New York, Boston, Chicago and Orlando. Thomson and First Choice offers package holidays to Majorca from LSA, but just announced they are tripling their services from the Essex airport for 2014.
To support this rapid growth, work on a £10 million extension to the terminal is scheduled to open in phases and complete by Christmas 2013. The new Arrivals area opened last week and five additional stands this week. Future phases will see an enlarged check-in, security search area and finally a much bigger departures lounge. This extension is to ensure the unique high standards of service passengers currently can only enjoy at London Southend Airport and why research shows they keep coming back – a maximum 4-minute wait for security and when arriving with just hand luggage travelling from plane to train within just 15 minutes of the aircraft doors opening – are not compromised as passenger numbers continue to grow.
This week also sees a new dual-channel radar entering service – significantly improving radar coverage and making London Southend and the South East even more safe and secure. The multi-million pound ATCR-33SE from Selex is the most advanced radar of its type in the UK and fully compatible with 4G – London Southend is the first airport to install it, and actually acted as a test bed for the new technologies.
More at www.southendairport.com
Related airports
Related people