Bahrain Airport Services participates in the Airport Show 2013 Exhibition in Dubai
Bahrain Airport Services (BAS) participated in the Airportshow 2013, held in Dubai on 6 – 8 May 2013…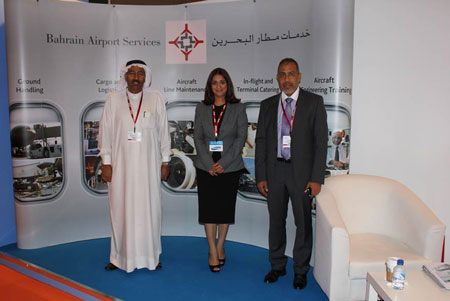 BAS at Airport Show in Dubai
Bahrain Airport Services (BAS) participated in the Airport Show 2013, held in Dubai on 6 – 8 May 2013.
The Exhibition was held under the patronage of H.E. Sheikh Ahmed Bin Saeed Al Maktoum, the President of the Department of Civil Aviation, CEO and Chairman of The Emirates Group and Chairman of Dubai World. The exhibition is considered the second largest exhibition in the world in the airport sector, attracted 220 companies from 35 countries, presenting the latest products, solutions, services and technologies in the construction, operation and airport services industries.
Bahrain Airport Services booth received great interest from exhibitors and visitors who have expressed their interest in the Kingdom of Bahrain and the latest aviation industry developments. BAS senior team participating at the exhibition conducted many meetings with other exhibitors on the latest technologies and services related to airport business and operations.
Around 220 exhibitors participated in the Airport Show 2013, including 50 local companies through its international partners. The show was held on an area of more than 11 thousand square meters and attracted more than 60 buyer from 12 countries, including Turkey, Jordan, Kuwait, Tunisia, Djibouti, Saudi Arabia, Pakistan, Egypt, Iraq and India.