Mitsubishi Corporation and Chiyoda reach agreement for construction of New Ulaanbaatar International Airport
Mitsubishi Corporation and Chiyoda have reached an agreement with the CAAM…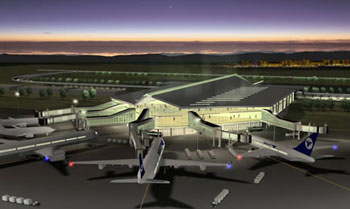 Mitsubishi Corporation (MC) and Chiyoda Corporation (Chiyoda) are pleased to announce that they have reached an agreement with the Civil Aviation Authority of Mongolia (CAAM) to construct the New Ulaanbaatar International Airport in Mongolia. The contract price is approximately 50 billion yen.
The new international airport, which meets all International Civil Aviation Organization (ICAO) standards, will be located on the plains approximately 50 km South-West of Ulaanbaatar, capital of Mongolia.
The scope of the project includes civil engineering works such as the transfer of approximately 3 million cubic meters of earth to build the foundation for a 3,600 meter runway equipped to accommodate large aircraft, and the construction of a 33,000 square meter passenger terminal with capacity for 2 million passengers per year. Securing and putting in place other special systems and equipment necessary for the airport to function effectively as an international airport, including IT systems, air traffic control systems, and aircraft fuel hydrant system, also fall within the scope of the project.
The construction period is set at 43 months (approximately 3 and half years). However, it is estimated that the actual time worked will be 28 months (approximately 2 and half years) as outside construction work is likely to be interrupted or made impossible at times due to the severity of Mongolian winters, where temperatures often drop to 40℃ below zero. This geographical reality will pose a major challenge for the 2 companies.
Due to its abundant mineral and livestock resources, Mongolia has enjoyed high economic growth in recent years, registering a 17.3% growth in GDP in 2011. The number of incoming overseas passengers has also been increasing over the years. However, take-off and landing at the existing Chinggis Khaan International Airport, the only international airport in Mongolia at the moment, are greatly restricted due to the airport's proximity to the mountains and to climatic conditions.
Construction of the New Ulaanbaatar International airport will vastly increase the number of passengers arriving to Mongolia, thereby contributing to Mongolia's further economic growth. Given the importance of this new airport development, the Mongolian government has earmarked approximately 10% of its annual budget for the project. This will be complemented by technology and funding provided under the Japanese government's Special Terms of Economic Partnership (STEP) ODA loan scheme, or international yen loan.
MC has been gaining expertise in this area of logistics and infrastructure development by working with similar airport construction projects on the basis of international yen loans in the Philippines, Indonesia and Uzbekistan. MC intends to maintain an active focus on expanding this and other related business activities, particularly in Asia.
Chiyoda also has an enviable track record in supplying aircraft fuel hydrant system to major Japanese airports, such as Narita International Airport and Tokyo International (Haneda) Airport. It has also supplied Utility Systems to Riyadh International Airport and Dammam International Airport, both located in the Kingdom of Saudi Arabia. As an integrated engineering company, this project will also be an opportunity for Chiyoda to reinforce its business in the transportation infrastructure sector, including the airport sector.