New NAV CANADA air traffic control tower up and running
NAV CANADA air traffic controllers are now handling flights at the busy Edmonton International Airport…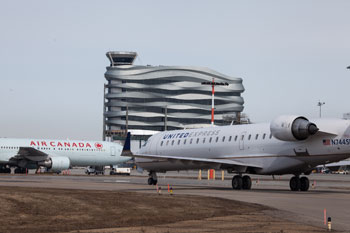 NAV CANADA air traffic controllers are now handling flights at the busy Edmonton International Airport from a new air traffic control tower, which crowns the airport's new eight-story Central Tower – a significant component of Edmonton International Airport's Expansion 2012 project.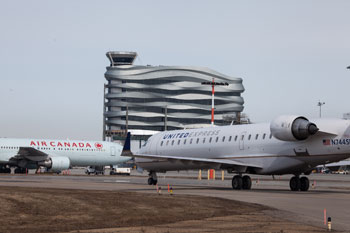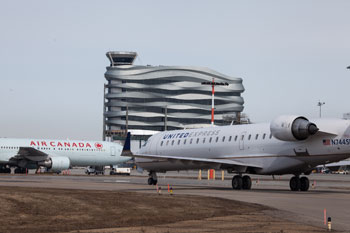 "The Central Tower creates a distinctive new landmark and a dramatic icon for both Edmonton International Airport (EIA) and the Capital Region. But it's not just nice to look at, it was needed. The multifunctional building includes a new NAV CANADA control tower at the top and a new integrated baggage system at the bottom. That left space for retail and office space in the middle, which will be home to NAV CANADA, EIA and Canadian Helicopters offices," says Reg Milley, EIA President and Chief Executive Officer.
The tower incorporates many design elements that reflect environmental considerations. EIA is seeking Leadership in Energy and Environment Design (LEED) Silver Certification for Central Tower.
From the control tower cab, NAV CANADA controllers will have a clear view of the airspace, runways and taxiways.
"At 48 metres high, the new control tower is four metres taller than the old one, and the floor space in the cab is about 50 per cent bigger," said Todd Trischuk, Control Tower Manager. "The extra height improves the controllers' sight lines and the larger area makes it a better working environment. The cab is also equipped with new ergonomically designed consoles."
Rudy Kellar, NAV CANADA Executive Vice President, Service Delivery noted that the previous control tower was over 40 years old. "It was clear that to continue to efficiently serve the airport's existing traffic and projected future growth we needed a new larger air traffic control facility," said Kellar.
"The airport's expansion, including a well-designed efficient terminal building with integrated office space, was a perfect opportunity to upgrade our air traffic control tower and provide advanced tools and equipment for our employees to continue to provide excellent services from. The tower project was facilitated by the airport authority and they gave us excellent cooperation throughout the planning and construction," Kellar added.
EIA is the country's fifth busiest airport in passenger numbers with 6.7 million passengers in 2012, and eighth busiest in air traffic with 142,000 annual aircraft movements. NAV CANADA has a staff complement of 18 air traffic controllers working in the control tower.
Edmonton's new control tower is equipped with the latest NAVCANatm technology including NAVCANstrips. This advanced electronic flight strips system and other integrated air traffic management technology is in operation at more than 70 Canadian sites, and has been adopted internationally by the United Kingdom, Denmark, Australia, the Netherland Antilles, Hong Kong, and Dubai.
NAV CANADA, is the country's private sector civil air navigation service provider. With operations from coast to coast to coast, NAV CANADA provides air traffic control, flight information, weather briefings, aeronautical information services, airport advisory services and electronic aids to navigation.
Related airports
Related organisations
Related people