Dubai International confirmed as world's leading A380 hub
Dubai International, the fastest growing airport in 2012 according to OAG statistics and the second busiest airport for international passenger traffic according to Airports Council International data, can now claim the title as the world's leading hub for A380 operations according to published airline industry flight schedule data for 2012.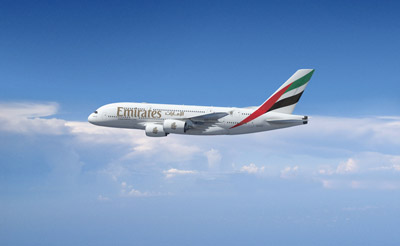 Published schedule data for 2012 shows the airport had 7,259 A380 scheduled flights to 28 destinations, with all but 88 of those flights scheduled by Emirates airline, the world's biggest operator of the double-decker aircraft. Taking second spot during 2012 with 6,653 A380 scheduled operations to 19 destinations was Singapore Changi. London Heathrow holds third position with 3,697 flights to six destinations followed by Frankfurt with 3,071 A380 flights to 12 destinations and Sydney with 2,697 flights to eight destinations.
"The opening of Concourse A earlier this year was a US$ 3 billion validation of our intention to be the world's premiere A380 hub," said Paul Griffiths, CEO of Dubai Airports. "This new facility is purpose built for the aircraft with two-tiered gates facilitating boarding directly from the first and business class lounges."
Rounding out the top ten during 2012 were Paris Charles de Gaulle (2,613 scheduled flights to 11 destinations), Hong Kong International (2,145 scheduled flights to nine destinations), Los Angeles (2,048 scheduled flights to seven destinations), New York JFK (2,004 scheduled flights to six destinations) and Melbourne (1,710 scheduled flights to seven destinations).
Fleet size and network structure had a direct bearing on the carrier contributions to A380 scheduled operations in international hub airports. Although home carriers Lufthansa, Qantas, Singapore Airlines, Air France/KLM and Emirates operate the lion's share of super jumbo scheduled flights in their home markets, that was not the case for London Heathrow (Qantas), Hong Kong (Emirates), New York JFK and Los Angeles (Singapore Airlines).
"Based on Emirates' order book, the new Qantas A380 operation and our $7.8 billion expansion plan, Dubai International is well placed to continue to hold the top position for A380 operations in 2013 and beyond," added Griffiths.
Related airports
Related organisations
Related people