Imtradex brings with AirTalk 3000 further sound quality and comfort in communications at airports
Professionals in ATC make high demands on their requests for technical communication…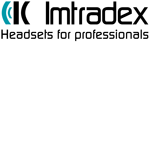 Professionals in the field of Air Traffic Control (ATC) make high demands on their requests for technical communication. Finally, understanding is the key factor at airports, to provide a smooth operation as well as a high degree of safety in the air traffic. To meet these growing needs, the specialist for hear and talk systems Imtradex, has expanded Their AirTalk Headset Series with 2 new, technically optimized models.
The new AirTalk 3000 XS and AirTalk 3000 XD are two extremely light headsets (AirTalk 3000 XS – monaural) and (AirTalk 3000 XD – binaural), which with their high level of comfort and crystal clear sound, exactly fit to the needs of air traffic control users. It is here that a clear and distinct understanding with pilots and on-tarmac staff is essential. "The comfortable fit of the headset is particularly important, because the communication in air traffic control often takes place over long periods of time" explains Mathias Iser, Technical Director of Imtradex Hör- /Sprechsysteme GmbH referring to the ergonomic improvements.
These are noticeable, not only by the extremely light weight of the new AirTalk 3000 models, which is well below that of its competitors. Another highlight is the high quality CoolMax® ear cushions. They provide both a comfortable fit and a maximum breathability. The reason is the incorporated fiber of the CoolMax® material in the surface channels. That allows the accumulated heat under the ear cushions, to escape faster in to the surrounding air.
Despite their lightweight the AirTalk 3000 XS and AirTalk 3000 XD are well prepared for the challenges of the everyday life in the domestic and international airports. A valuable contribution to this is the break-resistant and flexible design of the headset. "In our new AirTalk models we used high quality acoustic components – for example, the sophisticated Acoustic Shock Protection (ASP), which protects the ear of the user prior to high sound pressure levels, but also for our good noise-cancelling technology," added Mathias Iser. In the design, Imtradex have followed the development of their new BusinessLine 3000 series, however by the new AirTalk 3000 models was deliberately decided on a blue chrome ring on the headset.
For more information visit www.imtradex.com