LAX airfield Midfield Satellite Concourse nears completion
The facility is another major step closer to opening with the transition to officially becoming part of the LAX airfield.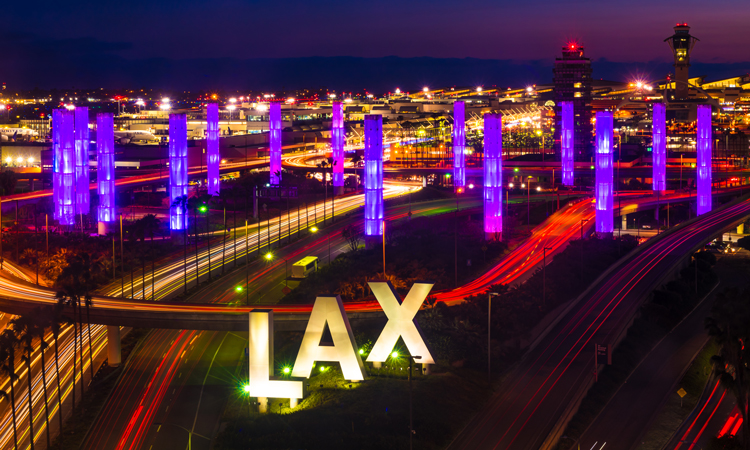 Construction of the Midfield Satellite Concourse (MSC) is nearly complete at Los Angeles International Airport (LAX).
With the recent move of airfield fencing and a sweep by police and K9 officers, the $1.6-billion extension to the Tom Bradley International Terminal was changed from a landside project, which has been its status since ground was broken in late 2016, to an airside project, which subjects it to a higher level of security for the remainder of the construction period.
The new 750,000 sq ft concourse, which features up to 15 gates, is connected to the Tom Bradley International Terminal through two tunnels, one for passengers and one for utilities and other systems. Guests will be able to access the concourse through either a 1,000-ft tunnel from Tom Bradley that will include moving sidewalks or by airfield bus from other terminals at LAX.
Among the finishing touches being worked on inside the building are the installation of terrazzo floors, carpet and ceiling panels, monitor screens and glass partitions. Similar work is also being carried out at the Tom Bradley terminal that will house the elevators and escalators needed to reach the tunnel to the MSC.
"The transition from landside to airside for our Midfield Satellite Concourse is another major milestone in building one of the most technologically advanced concourses in the world," said Justin Erbacci, Interim Chief Executive Officer, Los Angeles World Airports (LAWA). "Thank you to the thousands of workers, many from our local communities, who have put in more than 1.4 million hours to get us to this point and who will help us finish construction in the coming months and prepare for opening."
An Airport Operational Readiness group has been working with employees to prepare them to work in the new building. Later in summer 2020, LAX plans to use volunteers to test the level of service and functionality of every aspect of the facility.
The MSC is currently on track to open in the third quarter of this year.