TAM Airlines launches a new VIP lounge in São Paulo
TAM Airlines has inaugurated its third VIP lounge in São Paulo's International Airport (Guarulhos)…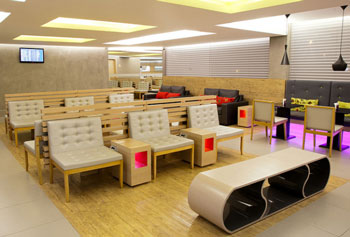 São Paulo Guarulhos International Airport (GRU) VIP Lounge
TAM Airlines has inaugurated its third VIP lounge in São Paulo's International Airport (Guarulhos) in order to give passengers some of the comforts of their own homes prior to the flight. The new space is located in Terminal 2.
"The creation of the new VIP lounge is part of a project to make our passengers feel more at home throughout their journey, both in the aircraft and on the ground," explains Edna Cruz, manager of TAM Inflight Service and Lounges. "We use elements such as sofas and cushions in a design that is also bold and contemporary," she adds.
Covering 540 square meters and with capacity of 174 seats, the room is decorated with furniture, materials, textures and colours that evoke the comforts of a house in a concept called "From Home to Home". It also offers Wi-Fi, snacks, beverages, two TV lounges, a business centre, shower room, and a family area with computers for children.
Customers with access to VIP lounge include:
TAM First Class passengers, or those flying in First with Star Alliance partner airlines, with a companion;
TAM, LAN and Star Alliance Business Class passengers;
Passengers who hold the Black or Red card of the TAM Fidelidade program; Star Alliance Gold Card or Paid Membership who are flying with TAM or any other company of the Star Alliance;
LANPASS Comodoro or Premium Silver passengers who are flying with TAM.