Chopin Airport ready for winter
Chopin Airport maintenance services have completed preparations for winter. Thanks to its state-of-the-art snow removal equipment…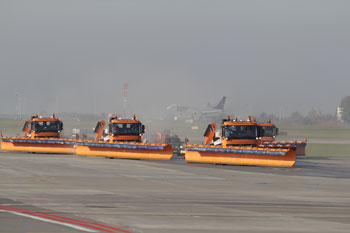 Chopin Airport maintenance services have completed preparations for winter. Thanks to its state-of-the-art snow removal equipment, which is the finest in Poland, the Warsaw airport can maintain smooth operation even in heavy snow.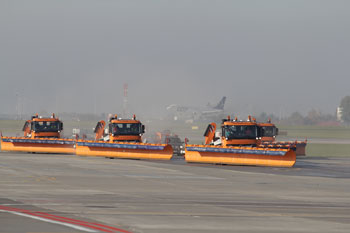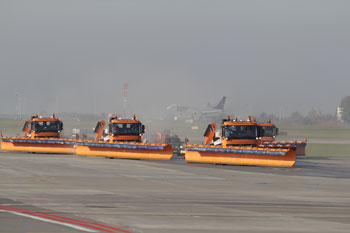 The Airport Maintenance Service is well prepared for the 2012/13 Winter Season, with 10 new MB2041/Øveraasen snow clearing units (each of which consists of a snowplough with a working width of 6.8 m mounted on a Mercedes Benz Actros truck, sweepers with a 5.5m wide broom system and a powerful blower), as well as a large Damman liquid de-icing agent spreader, offering better performance than the equipment used before, allowing for removing snow from the runways in a single 25-30 minute pass. Aprons and taxiways will be cleared with 5 dedicated compact sweepers and 6 older snow removal units. The Airport Maintenance Service also has another 41 machines and devices at its disposal.
"The staff who use this equipment are well trained, comprehensively skilled and, judging by previous winter seasons, committed to their job. Both snow clearing equipment operators and mechanics responsible for its maintenance and repairs are capable of working in harsh winter conditions. We are well prepared for the upcoming winter and you can rest assured that we will do our best to make sure passengers and cargo get to and from Warsaw on time and without any problems," said Jan Michalak, Head of the Airport Maintenance Service.
The airport uses Ice Alert, one of the most advanced systems of its kind in Europe. The system consists of six measurement points located on both runways, each equipped with completely unique, patented BOSO and ARCTIS runway surface sensors and data processors, making the conditions in which ice is likely to form much easier to predict. This is made possible thanks to an automatic computer analysis of a number of parameters, including the air and surface temperature, surface dampness, relative air humidity, precipitation and historical data.
"This technologically advanced system processes complex data to determine the current freeze point, alerting the user to a possible icy condition. It's a very useful tool for the Airport Maintenance Service and Airport Duty Officers. Combining cutting-edge technology with experienced staff we can effectively prevent such conditions as black ice and, consequently, guarantee the highest possible safety of aircraft operations," said Marcin Szczerbiński from the Engineering Systems Service, who is responsible for ensuring the proper operation of the system.
In addition to Ice Alert, the airport also uses a separate system installed at measurement points on some of the access roads leading to Terminal A. It spreads a special anti-icing agent on the roads going up to Terminal A departures hall, keeping them clear and safe at all times.
Related airports
Related people