Flight operations commence at Frankfurt Airport's new Pier A-Plus
New Pier goes operational on schedule – capacity for six million passengers yearly…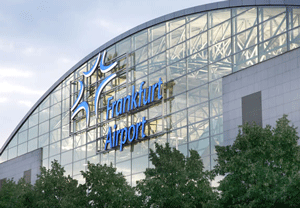 On Wednesday morning, Frankfurt Airport's (FRA) new Pier A-Plus went into operation. Fraport AG, the manager and operator of FRA, has invested a total of €700 million for the construction of the new pier, built as a westward extension of the existing Concourse A in Terminal 1. As scheduled, the first flights were handled in pier A-Plus today. From now on the new pier is part of Terminal 1's day-to-day operation.
Pier A-Plus will allow Frankfurt Airport to serve up to six million additional passengers per year. After a trial phase spanning several weeks and involving a total of approximately 2,000 test passengers, a Lufthansa Airbus A380 coming from New York was the first aircraft to dock at the new pier this morning at 5:30 a.m. The passengers disembarking from that plane were thus the first to make use of the 800-meter long new pier. The same A380 aircraft was also the first to depart from pier A-Plus, leaving on time at 9:50 a.m. bound for San Francisco. About 20 flights are scheduled to be handled from the new pier on its first day of operation. Over the next few days, the pier's capacity utilization will gradually increase.
Used exclusively by Lufthansa and its Star Alliance partners, the new pier provides seven docking positions for wide-body aircraft: four capable of handling the A380 aircraft. Featuring five Lufthansa lounges, 14 food & beverage outlets and 46 stores, pier A-Plus will ensure a positive travel experience and a maximum of comfort for passengers.
Related airports
Related organisations