Frankfurt Airport opens Pier A-Plus as scheduled
Terminal 1 expansion creates new capacity for up to six million passengers yearly…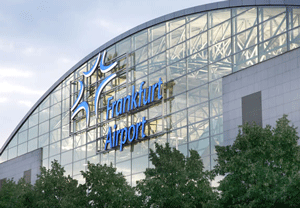 Frankfurt Airport's (FRA) new Pier A-Plus – the 800 meter-long westward expansion of Terminal 1 – opened on schedule after about four years of construction. Flight operations begin on October 10 at the new pier, allowing Germany's biggest hub to serve up to six million additional passengers per year – thus a total of approximately 65 million passengers per year. This €700 million terminal complex will be exclusively used by Deutsche Lufthansa AG and its Star Alliance partners. In particular, Pier A-Plus provides more docking positions for serving widebody aircraft like the Airbus A380 superjumbo and the Boeing B747 family.
"The new Pier A-Plus represents a quantum leap in Fraport's strategy to secure the competitiveness and future capabilities of Frankfurt Airport", says Fraport executive board chairman Dr. Stefan Schulte. "We've created additional space for up to six million passengers per year. This extra capacity will allow us to meet traffic growth expected in the coming years and to strengthen our role as one of the world's leading aviation hubs. This terminal expansion also sets new standards for the travel experience of our passengers and for terminal management. Our guests from around the world will benefit from advanced handling facilities and a wide range of shops and restaurants. Easier transferring between short-haul and long-haul flights will result in enhanced comfort of our customers."
Deutsche Lufthansa AG's executive board chairman Christoph Franz commented: "I am convinced that Pier A-Plus will be well appreciated by our guests. Five new lounges and the latest technology set new standards. With Pier A-Plus, our FRA home base is again at the forefront among Europe's major hub airports. This is good news for the German aviation industry and the Frankfurt/Rhine-Main region, which particularly benefits from the Germany's biggest airport."
Volker Bouffier, the prime minister of the German federal state of Hesse, declared: "The opening of the new pier marks a further milestone for Frankfurt Airport and secures long-term development opportunities in an extremely competitive growth market. Frankfurt Airport serves not only as our gateway to the world, but also is a renowned international calling card for the City of Frankfurt and the rest of the State of Hesse. Our airport is, by far, the largest employment complex at a single location in all of Germany — and serves as the job motor of the entire region and as heart of the Frankfurt/Rhine-Main transportation hub."
Florian Rentsch, Hesse's minister of economics and transportation, stated: "The inauguration of the new Pier A-Plus represents another important chapter of the Frankfurt hub and its users. I am convinced that the system partnership existing between Fraport and Lufthansa will continue writing this success story that also benefits the Frankfurt/Rhine-Main region."
Pier A-Plus with 185,000m² of total useable floor space is the largest above-ground construction project at Frankfurt Airport since theopening of Terminal 2 in 1994. It provides seven docking positions for long-haul aircraft: four designed for double-decker jets like the A380 superjumbo served by three passenger bridges (one for the upper deck and two for the main deck); and three more positions with two passenger bridges for aircraft like the Boeing 747-8 and Airbus 340. Alternatively, eleven narrowbody jets can be handled simultaneously at Pier A-Plus – ensuring optimum flexibility.
The new pier makes the transfer processes significantly easier and faster at Lufthansa's biggest hub. In the future, all incoming flights from the U.S. will be handled at Area A of Terminal 1. The minimum connecting for many transfer flights on these routes will be reduced from currently 60 minutes to 45 minutes. Furthermore, the so-called docking rate will increase noticeably. That means that more aircraft can directly dock on the terminal and do not have to be parked at remote apron positions. This is much more comfortable for travelers than having to be transported to the terminal by bus, and it reduces the complexity of operations.
Pier A-Plus features five Lufthansa lounges: one First Class, two Senator and two Business lounges where guests can take a break, work or get refreshed. These facilities expand Lufthansa's total lounge space at FRA by almost 50 percent to more than 14,000 square meters. Other details in the pier enhance the comfort of passengers: The moving walkways are longer and broader in order to shorten walking distances and to pass other guests who are not in a hurry. Furthermore, the generous waiting areas have seats with integrated power outlets and USB ports for electronic devices.
A new standard is also set in terms of retail concepts at this new expansion of Terminal 1. A total surface area of about 12,000 square meters is dedicated to some 60 shops and restaurants, which are mainly concentrated at two central marketplaces. For the first time at FRA, Duty Free and Travel Value Shops are conceptualized as walk-through shops. Travelers are automatically led through the sales area after passing the security control points.
The ground-breaking ceremony for Pier A-Plus took place in December 2008. A huge challenge during the construction phase was to maintain ongoing operations at the neighboring area of Terminal 1 and on the apron. Some work could only be done at nighttime. In July of this year, the first part of the pier was already opened, the so-called "root" or junction of A-Plus and the existing Pier A.
Related airports
Related people