Nepal air crash – bird strike may be cause
Posted: 28 September 2012 | Institution of Mechanical Engineers | No comments yet
The Institution of Mechanical Engineers has responded to suggestions that the Nepal air crash may have been caused by bird strike…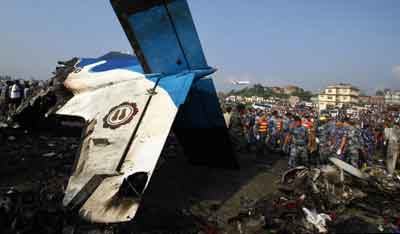 Suggestions have been made that a bird strike caused a catastrophic aircraft failure
Philippa Oldham, Head of Transport at the Institution of Mechanical Engineers, has responded to suggestions that the Nepal air crash may have been caused by bird strike.
"Although it is too early to say definitively what caused this air crash, suggestions have been made that a bird strike caused a catastrophic aircraft failure.
"90% of bird strikes occur during take-off or landing of aircraft and the majority of bird strikes lead to little damage of the aircraft. But they can sometimes cause aeroplane failure – particularly if the bird is very large.
"Bird strikes can be dangerous to both propeller and jet engine planes. In the case of propeller planes, there have been cases where bird strike has damaged windshields, propellers and even the fuselage – all of which can potentially have devastating consequences.
"Aerospace engineers recognise this as a safety issue and are developing computer simulations to model the effects and help mitigate against the impact of bird strike."