Work starts at Chopin Airport Terminal A
The old part of Terminal A at Chopin Airport has been closed for passengers and staff and as of 13 September turned into a construction site…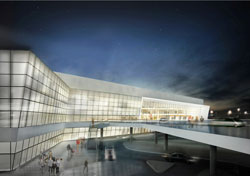 The old part of Terminal A at Chopin Airport has been closed for passengers and staff and as of 13 September turned into a construction site. By the end of 2014 the building will be completely transformed and integrated with the new part of the terminal.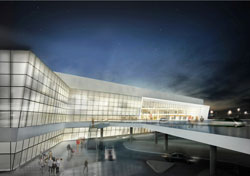 The old terminal (former Terminal 1) has to be refurbished to increase its throughput due to growing traffic. Another reason for the modernisation of the terminal, in use since 1992, was its poor condition – leaking roof and technical failures caused inconvenience to passengers.
"We want to provide Chopin Airport passengers with the highest quality of services. After the refurbishment the terminal will be more spacious and comfortable," explains Przemysław Przybylski, the airport's spokesman.
As a result of the refurbishment, the old terminal will be completely integrated with the new one, both architecturally and functionally. The renovated part will boast more check-in desks, security checkpoints and additional baggage sorting equipment. Also, a new underground passage linking the arrivals hall with the airport railway station will be constructed.
"I am convinced that the end result will more than make up for the temporary inconvenience related to the closure and refurbishment of the old part," says Przybylski.
Due to construction work, as of 1 August all check-ins, airline, tour operator and car rental offices, as well as the Lost Luggage facility and the post office were moved from the old to the new part of the terminal (CDE zone).
Chopin Airport is the biggest airport in Poland, handling scheduled, charter, cargo and general aviation traffic. In 2011, the airport welcomed over 9.3 million passengers (138.6 thousand aircraft movements), nearly 43% of Poland's total passenger traffic.
Related airports
Related people