ACI releases its 2011 World Airport Traffic Report
Posted: 28 August 2012 | Airports Council International (ACI) | No comments yet
Director General of ACI World, Angela Gittens announced the publication of ACI's 2011 World Annual Traffic Report…

Director General of ACI World, Angela Gittens announced the publication of ACI's 2011 World Annual Traffic Report. "ACI's flagship publication is a unique and comprehensive industry reference providing data, indicators and analyses from over 1,500 airports in over 150 countries. The report describes the continued growth trajectory following the two-year recession of 2008-2009. Although 2011 can best be characterized as a year plagued with economic uncertainty, natural disasters and sociopolitical upheaval, airport passenger traffic posted another record year. The world's airports served more than 5.4 billion passengers in 2011 growing by 5.3% from 2010. This is ongoing evidence of the sheer size of the global aviation market as well as the perseverance of the industry as a whole."
Commenting on cargo traffic, Gittens said, "Trade in air cargo was not as resilient to the uncertain economic climate that was primarily brought on by the debt default risks in European and North American economies. In the latter half of 2011, with business confidence deteriorating, cargo traffic contracted in tandem. In the aggregate, cargo volumes were almost flat in 2011 relative to 2010 at 93.1 million tonnes."
2011 – Key statistics in Brief
1,520 airports located in 156 countries reported that:
Worldwide airport passenger numbers increased by 5.3% in 2011 to 5.44 billion, registering increases in five of six regions
Latin America-Caribbean (+8.5%), Middle East (+7.7%), Asia-Pacific (+7.0%) and Europe (+7.0%) all showed robust growth in passenger traffic, North America (+1.8%) experienced moderate growth; With the brunt of social and political unrest in Northern Africa, Africa (-3.5%) saw a contraction in year-over-year passenger traffic.
Worldwide domestic traffic increased by 3.7%, while international traffic jumped by 6.6%
Worldwide aircraft movements increased 2.3% to 77 million
Total cargo volumes handled by airports was flat at 0.2%, which represents 93.1 million tonnes
70% of airports worldwide registered positive passenger growth at an average of 7.9%, while 30% of airports lost traffic at an average rate of -5.9%.
Gittens remarked on some new additions to the report, "In this edition of the World Annual Airport Traffic Report, ACI provides new perspectives and analyses based on an expanded airport traffic data set. In addition, a historical perspective was adopted to quantify the adverse impact of major events on airport traffic and demonstrate the resilience of air transport demand over the last decade. Market share and traffic concentration is also investigated in greater depth among the major airport hub cities of the world. The Report also features specialized sections covering the measurement of airport traffic fluctuations and seasonality. A review of airport output indicators is also a new and insightful additions to this year's report. As always, ACI provides the most comprehensive airport traffic data and rankings in an internationally comparable format, as well as regional traffic trends to provide our members and readership a global view of the industry as a whole."

Passengers: total passengers enplaned and deplaned, passengers in transit counted once.
Cargo: loaded and unloaded freight and mail.
Aircraft Movements: landing and take-off of an aircraft.
BUSIEST AIRPORTS–AIRCRAFT MOVEMENTS
Commenting on regional trends, Gittens said, "Growth rates in monthly passenger traffic were relatively stable for most of 2011. The emerging markets of Latin America-Caribbean, Asia-Pacific and the Middle East posted strong gains, with the exception of Africa that experienced a decline of -3.5% in passenger traffic as a result of social and political unrest in Northern Africa. North America experienced more moderate growth in passenger traffic throughout 2011. Europe was still able to stay afloat with an impressive growth rate of 7% despite the economic slowdown and the move to government austerity in the latter half of 2011. This is partly explained by the growing number of international traffic passengers passing through European airports."
2012 Outlook
Preliminary ACI statistics received just before press time showed global passenger traffic up 5% for the first six months of 2011. Commenting on the prospects for the remainder of the year, ACI World's Director of Economics and Programme Develoment, Dr. Rafael Echevarne, noted, "The traffic outlook for 2012 is mixed. Although passenger traffic in 2012 is expected to grow, the significant slow-down of the economies in the BRIC countries, together with the continued economic troubles in Europe and the United States, means that the overall growth rate in passenger traffic will be at less than 5%. Cargo traffic is expected to show a decline with respect to 2011 levels, mainly driven by the low business and consumer confidence in the largest international economies."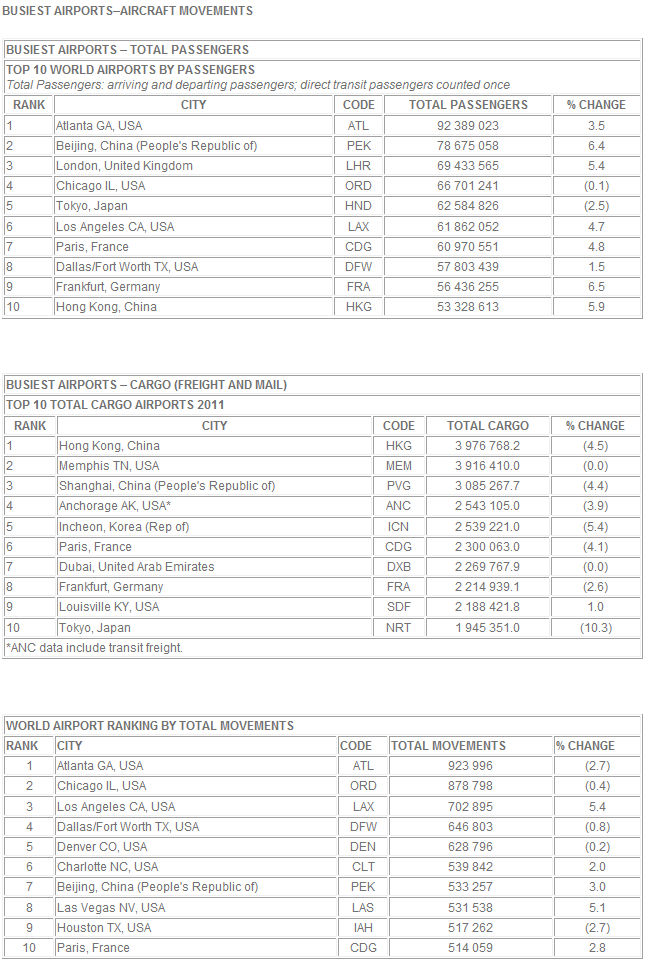 Related organisations
Related people