Winter operations: Preparing for the worst
Winter weather can present a unique set of challenges when it comes to the smooth running of an airport. Jon Dutton, Business Manager of the Met Office Aviation team, looks to the future of forecasting in the UK.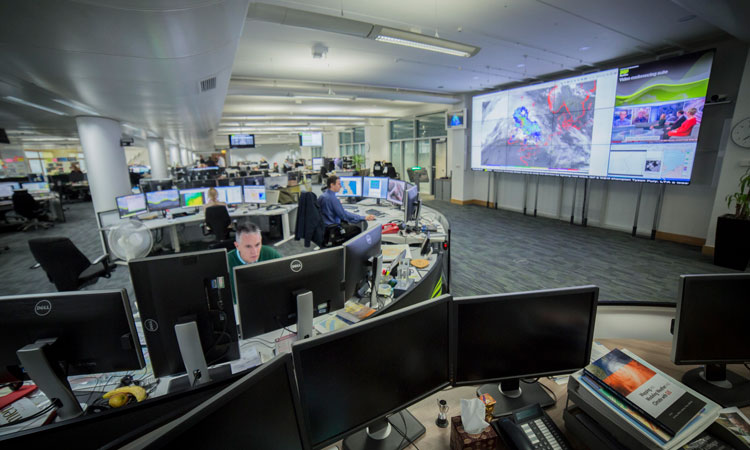 The Met Office operations centre
Severe weather such as snow can impact the smooth running of the aviation industry and these are not just issues around scheduling flights, but also around the vast array of associated infrastructure, passengers and staff resources.
For example, the heavy snow in December 2010 was one of the most significant and disruptive weather events in recent memory. It led to significant challenges for both airlines and airports for several days. Meanwhile in January 2015 snow again brought travel disruption to northern England, closing airports as well as schools and roads.
The challenges facing the UK
In the UK, it is no secret that our airport infrastructure is under pressure to keep up with demand, which has led to the recent heated debate around expansion. Indeed, UK passenger numbers in the second quarter of 2015 hit a new peak, with the rolling 12 month passenger total being the highest since records began.
Due to this high demand, many of our international airports have to work to a much higher capacity than those in other countries, meaning weather events can have a more significant impact. For example, many airports around the globe typically run at 50-60 per cent of runway capacity. The UK's largest and busiest airport – Heathrow – runs at 98% capacity every day.
Forecasting in the UK will always present challenges due to its geographical position between the Atlantic Ocean and continental Europe, which leads to variable weather patterns. This makes accurate forecasting for the aviation industry imperative.
Met Office aviation meteorologists are based on site at Heathrow Airport 24 hours a day, seven days a week. Working directly alongside operational staff has become a vital tool for airports as they work to predict and mitigate the impact of bad weather. On a day-to-day basis, our aviation meteorologists are there to advise the airport on the likely impacts of any weather events. This vital information is also passed on to airlines, so a truly coordinated effort is put into managing and minimising disruption to schedules, and ultimately the passengers.
The Met Office also provides information on a much wider scale to support aviation on a global level. One of only two World Area Forecast Centres (WAFC), providing high-level weather information for the entire globe, is based at Met Office headquarters in Exeter. We are also one of only nine Volcanic Ash Advisory Centres (VAAC) worldwide, responsible for monitoring and forecasting the movement of volcanic ash.
Aviation-specific forecasts
Different types or 'ranges' of forecasts help airports plan different operational elements. Short term forecasts are vital for staff operational planning, for example frost or snow events will mean that more staff will be required at airports for de-icing or snow clearance purposes.
The Met Office advises on conditions such as air temperature, ground temperature, surface winds and winds at 3,000ft. This helps to manage landing and take off schedules and to plan mitigation measures such as securing equipment around the terminals in high winds. The challenge is to reduce delays and minimise disruption.
During a flight, jetstream winds and temperatures can have a significant impact on fuel consumption and flight schedules. In passenger aircraft, turbulence is a major concern, while thunderstorms can close air routes for hundreds of miles.
Long-term planning and forecasting also plays an important role. The Met Office is increasingly working with airlines and airports to provide longer range outlooks designed for those who make longer-term strategic decisions based on risk and implement contingency planning.
These long-term indications help airports and airlines plan future operations and purchasing decisions. For example, indications of a colder than usual winter can highlight the need to look at the amount of de-icing fluid an airport or airline may purchase that year. It can also aid in the planning of longer term staffing requirements.
Reductions and mitigation of disruption
In marginal weather conditions, it is vital that airports and airlines are able to make confident weather-sensitive decisions if they are to keep runways open and flight schedules on time. No one can stop weather from happening so reduction and mitigation of disruption is key.
There are many tools airports can use to help them plan ahead and reduce disruption, such as the Met Office OpenRunway® service – an online weather forecasting package – offering critical weather information and timely alerts on changing weather conditions.
Snow and ice
Winter snow and ice can have a major impact on airport operations. Aircraft may have to be deiced prior to departure and runways have to be cleared or treated, while the work of ground staff may be impacted and refuelling affected.
Working closely with meteorologists during a significant weather event can help airports and airlines prepare and plan. Forecasts often include the likelihood of snow five-days in advance and 24 hours before can detail the exact timings of snowfall, how long it will last and how heavily it is expected to be. A timely, accurate forecast can mean snow clearance vehicles and crews are prepared and a schedule for snow clearance organised.
The Met Office provides a colour-coded anti-icing and de-icing alert up to five days ahead of difficult weather, which can help aircraft complete their planned flying programme, help ensure stock and staff management is well-planned and reduce the environmental impacts of de-icing fluids by improving understanding of when treatment is not required.
Looking to the future
As well as snow, ice and wind, fog can also cause serious issues to the smooth running of an airport. It provides a particular set of challenges being harder to predict and track than snow, and can be very localised in nature. The Met Office is currently investing in significant resources to help improve fog and low cloud forecasting and increase scientific investigation into modelling.
Investment continues in research and development, satellite remote-sensing and, crucially, supercomputing to ensure that the UK has the weather forecasting ability it requires and to ensure that the Met Office can uphold its trusted position as the UK's national meteorological service.
Installation of a new high-performance computer (HPC) is underway at the Met Office Exeter HQ. This, combined with advances in modelling, is expected to give a boost not only to the quality of science but also to the efficient delivery of services. The HPC will enable local weather forecasts and climate change predictions to be done at higher speed and greater resolution than ever before.
The Met Office advises all sectors of the industry – airlines, airports, air traffic control and management, ground handling, airport construction and maintenance – helping increase safety and achieve operational efficiencies and cost savings, not just in winter, but throughout the year.
Biography
Jon Dutton has worked for the Met Office for 14 years, initially joining as a senior aviation forecaster, focusing on civil aviation services. Jon then moved in to operations management, ensuring the effective delivery of meteorological services to customers in a variety of transport related industries and is currently Business Manager of the Met Office Aviation Team. Prior to the Met Office, Jon spent two years working for the Environment Agency, and he has a master's degree in Applied Meteorology from the University of Reading.
Issue
Related organisations
Related regions