Moving toward one standard
After many years of publishing its recommendations for de-icing and anti-icing aircraft on the ground, the Association of European Airlines (AEA) published its last and final ever edition in July 2016. In this article Arjen Piest, Faculty Manager and Trainer for the 'De-icing/Anti-icing on the Ground Training Courses' at the JAA Training Organisation (JAA TO), talks about why and how this change towards one industry standard has been initiated and, even more importantly, what it means for the industry and how providers and airlines should proceed from this point.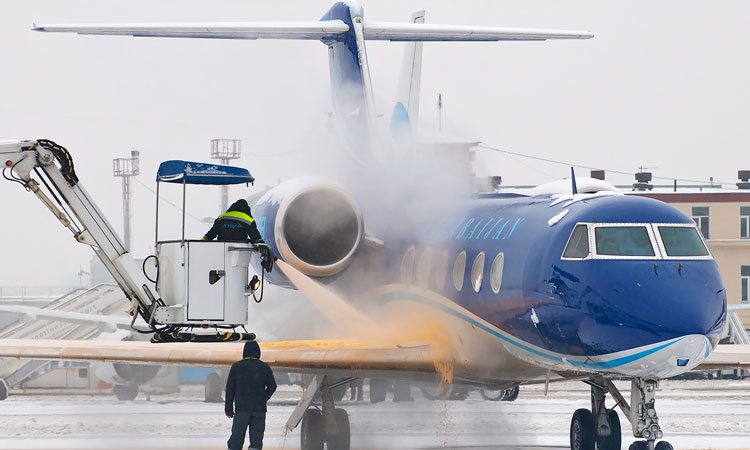 Current standards and regulations
Up until now there were the Association of European Airlines (AEA) recommendations and Society of Automotive Engineers (SAE) standards; on top of that there are recommendations from ICAO, as well as those from national regulators. This was especially true in North America, often causing confusion and in many cases leading to double the amount of documentation being completed. More often than not, the recommendations are all simply written a bit differently. The SAE was already publishing Aerospace Recommended Practice (ARP) and Aerospace Standard (AS) for subjects such as equipment, facilities, training programmes, ground processes, fluids or message boards. Meanwhile in Europe, there were the AEA recommendations for de-icing and anti-icing operations and training.
Therefore, European de-icing service providers and airlines had to look to both the SAE and AEA for their de-icing operations, however frequently found that some of the information contradicted each other. Very few Civil Aviation Authorities (CAAs) in Europe publish information about ground de-icing procedures and therefore refer to either the AEA and/or SAE recommendations and standards. Furthermore, the European Aviation Safety Agency (EASA) does not publish information on how to conduct ground de-icing procedures, apart from the statement that anyone commanding an aircraft should take off with a clean aircraft concept.
Numerous providers and airlines outside Europe, for example in Asia and Russia, relied on the AEA recommendations for many years. Therefore these countries will now need to change to the SAE recommended practices and standards. For North America (USA and Canada) not many changes are expected; both countries publish documentation and/or legislation on ground de-icing procedures and will continue to do so. The only change expected might be the (minor) changes in the SAE documents which were made to align to the SAE and AEA documents.
The SAE  
With the termination of the AEA recommendations, everyone will now look at the same industry recommended practices and standards published by the SAE. Within the SAE there is a committee called 'G-12' which deals with all aspects of aircraft de-icing on the ground. Within the G-12 there are several sub-committees, each dealing with one specific subject, for example equipment, fluids, methods or facilities. Each sub-committee consists of true industry experts who meet twice a year in either North America or Europe. During these meetings information is shared, new technologies are presented and most importantly, changes to the standards are  discussed and/or approved.
New global standards
Ceasing to use the AEA Recommendations did not come as a surprise; the community has been working diligently for years to achieve one global standard for de-icing and anti-icing on the ground. Hard work from several individuals at both the SAE G-12 committee and AEA working groups has led to AS6285 (Aircraft Ground De-icing/Anti-Icing Processes) and AS6286 (Training and Qualification Program for De-icing/Anti-icing of Aircraft on the Ground), including six more so-called 'slash sheets' with detailed information about subjects such as equipment, health and safety, fluids, diagrams / no-spray zones and methods.
The SAE G-12 committee will continue updating both documents for an indefinite time period, as developments continue and new insights trigger new procedures or methods over time. A word of appreciation is due for the sponsors and volunteers as the majority of the work is completed free-of-charge by subject experts.
Flight deck operations  
As we move towards one global standard issued by the SAE, a major difference will be the use and application of HOT (Hold Over Time) tables on the Flight Deck. Most European airlines (and many other airlines around the world) are using the AEA HOT tables for determining the HOT in their books and/or Electronic Flight Bags (EFBs). Pilots use these tables to manually determine the treatment type needed and to calculate their HOT during winter weather conditions. As the AEA will also no longer publish these HOT tables, airlines will have to change to either the Federal Aviation Administration (FAA) or Transport Canada (TC) HOT tables, if they haven't done so already. This will not change winter procedures on the Flight Deck itself, but it will require a change or revision in the onboard books and/or EFBs. Since the FAA/TC tables differ from the AEA tables, additional awareness training for flight crews may be needed, especially for airlines which are not used to winter operations.
Ground operations
The big question is: will the aforementioned information trigger a major change for providers of de-icing and anti-icing services in regards to how they currently work? In recent years much has already been done to harmonise de-icing and anti-icing procedures worldwide. As such, a completely new approach to de-icing aircraft will not be needed. However, to stay compliant with global standards, at which providers are audited frequently, it is strongly advised that both staff and manuals are updated to the SAE standards before the start of winter season 2017/2018. Doing so will ensure that organisations understand what is changing and what to adapt in terms of manuals and procedures.
Training
There is limited time remaining for providers and airlines to completely train their staff to the new standards. My colleagues and I have already assisted numerous clients with updating their manuals and procedures to the new SAE standards and implementation of FAA/TC HOT tables. JAA TO has already seen a much higher demand for training in de-icing and anti-icing on the ground and de-icing and anti-icing auditing in comparison with previous years. As a result of this, JAA TO has significantly scaled-up the training schedule for the upcoming months leading to the start of the winter season 2017/2018. In addition to its headquarters in Hoofddorp (near Amsterdam Airport Schiphol), JAA TO also provides de-icing training courses at other training locations such as London, Vienna and Abu Dhabi. JAA TO also offers customised training at customer locations when desired.
Biography
Arjen Piest is the Faculty Manager and Trainer for the 'De-icing/Anti-icing on the Ground Training Courses' at JAA Training Organisation (JAA TO). He is also a consultant working for SureConsult, a group of winter operations experts in North America and Europe. Arjen gained his expertise in de-icing operations at Amsterdam Schiphol Airport, working with the main hub carrier KLM Royal Dutch Airlines for over 10 years. During those years, Schiphol and KLM underwent major changes in their winter and de-icing operations. Arjen's duties during this time varied from assisting in the design of the new Central De-icing Facility, implementing a semi-automated Electronic Message Board system to changing numerous operational and training procedures.
Issue
Related topics
Related people