Frankfurt weathers the winter challenge
The winter weather challenges of 2010, at the beginning and towards the end of the year, further exasperated an already turbulent year in European aviation. At Frankfurt Airport, aircraft movements grew by only 0.3 percent in 2010 to 464,432 takeoffs and landings.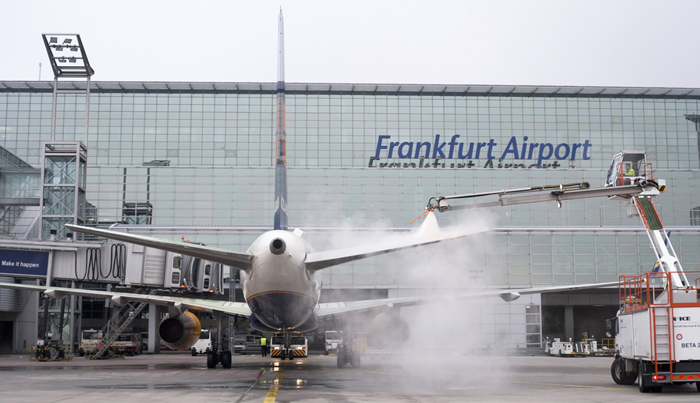 This modest increase can be attributed to the numerous air traffic disruptions, including weather disturbances in Germany and the rest of Europe. Thus, FRA registered a total of 22,000 flight cancellations throughout 2010 – 15,000 more than the annual average during the past decade – which corresponds to an estimated loss of 1.4 million passengers. Accumulated maximum takeoff weights (MTOWs) at FRA amounted to 27,963,744 metric tons from January to December 2010, a 2.9 percent rise year-on-year.
Like many other European airports, FRA's passenger figures dropped in December 2010 due to the harsh onslaught of winter weather. Frankfurt Airport welcomed 3,785,631 passengers in December 2010, a 1.6 percent decline year-on-year. Aircraft movements also dropped by five percent to 34,124 takeoffs and landings in the last month of 2010. MTOWs slipped in December 2010 by 0.1 percent yearon- year to 2,170,460 metric tons. However, in December 2010 airfreight still continued to rise at FRA by 3.3 percent to 179,673 metric tons year-on-year.
Frankfurt Airport had 10 days of extreme winter weather in the period from November 26 to December 30, 2010. Despite the bad weather conditions, 70 to 80 percent of FRA's flights could be handled on these days, albeit with delays. FRA was only closed (the runways) for a couple of hours due to extreme snowfall on the following dates (temperatures were around 0°C with wet snow and ice conditions on each date): on December 8, 2010, from 22:09 to 02:17 in the morning, on December 16, 2010, from 22:47 to 23:50; and on December 21, 2010, from 05:06 to 08:30 in the early morning. Although the runways were repeatedly cleared, the surfaces were re-covered with snow and the required friction coefficients necessary for safe runway operations could not be attained. Throughout the winter weather storm days, FRA was particularly affected by the situation at other airports: the "snowball" or domino effect of flight delays and airport closures. This underscores the fact that Europe's air transportation system is an interconnected network of major and secondary hubs and other airports. The hub airlines need to keep their planes in motion (taking off and landing) to keep their schedules operating. This giant orchestra of flight starts to go out of tune when some of the players and sections of the orchestra lose capacity or stop playing!
Nevertheless, Fraport AG still registered noticeable growth in almost all traffic categories at its Frankfurt Airport (FRA) home base in 2010 – a year of great turbulence for the international air transportation industry. FRA welcomed more than 53 million passengers in 2010, an increase of 4.1 percent compared to 2009. Frankfurt achieved a new historic record for airfreight tonnage, which jumped by 21.5 percent to 2,231,348 metric tons in 2010.
"The aviation rollercoaster of 2010 at times paralleled the stock market fever on hectic trading days," says Fraport AG executive board chairman Dr. Stefan Schulte regarding the 2010 traffic results. "We completed the year with positive results overall, despite the onsaught of severe winter weather at the beginning and the end of 2010, despite strikes by airline staff and air traffic controllers in numerous European countries, and despite the multi-day shutdown of European airspace due to the ash cloud crisis," Schulte explains. "With the inauguration of our new Runway Northwest in October 2010 – at the start of the Winter Timetable 2011/2012 – we will create the prerequisites for Germany's leading air transportation hub to meet growing traffic demand in the future," emphasises Schulte.
Snow planning
Fraport's planning for winter services requirements at Frankfurt Airport is done in cooperation with the relevant airport partners: the airlines, air traffic control (ATC) and the German weather service. For the winter season 2010/2011, Fraport implemented an additional fleet of snow removal vehicles consisting of eight snowplows and other special vehicles. In total, Fraport operates four snow-clearing fleets: three fleets for the airfield and one fleet for the apron areas. In total, Fraport operates 126 snow removal vehicles at FRA, including snowplows, snow sweepers, snow blowers, salt trucks and tractors with snowblades. In addition, FRA also has a fleet of 4 friction-testing vehicles, deployed to measure the friction coefficient on the three runways. Thanks to an ice sensor system installed in the runways, Fraport is able to take immediate action against the formation of ice by deploying salt trucks and snow-clearing vehicles.
Frankfurt Airport's Snow Contingency Plan – including information on the equipment fleet – is duly published in the German Aeronautical Information Publication (AIP).All procedures concerning Fraport's Winter Services are specified in binding internal guidelines and are implemented accordingly. Written agreements have also been concluded with the DFS Deutsche Flugsicherung GmbH, the German Air Navigation Services company. Winter Services policies and operations are discussed with the airlines before the start of the next winter season. In addition to the weather forecast, airlines receive regular updates on expected snowfall. Ad hoc meetings with airlines are held throughout the current winter season to secure and adjust the coordination of operations.
Fraport ensures that a sufficient number of staff is available for FRA's Winter Services operations. The Winter Services team comprises both permanent Fraport employees as well as experienced external staff recruited through long-term contracts. If necessary, up to 410 staff are available for snow removal and de-icing operations at the airport.
Additional de-icing facilities
For the winter season 2010/2011, Fraport inaugurated an additional "de-icing pad". FRA now has two de-icing pads available – located near the departure runways – as well as up to three aircraft positions specially suited for remote de-icing. Other de-icing operations are conducted directly at the regular position of the aircraft. Thus, Frankfurt Airport offers sufficient facilities for aircraft de-icing.
De-icing flows
Fraport has fixed-delivery supply contracts with producers of de-icing agents. At the beginning of the present winter season (2010/2011), sufficient de-icing material was stored at FRA. Indeed, the stock of de-icing material was raised by a factor of four compared to the previous season. Thanks to these measures, Fraport could avoid shortages of de-icing agent and could assure clearing and de-icing of planes and FRA's premises at any time.
While FRA was not negatively impacted by European-wide delivery shortages of de-icing agents, the continuous supply of de-icing agents is a matter of strategic importance for the European air transportation industry. Optimising the supply chain as well as other issues will have to be worked out between the manufacturers of de-icing agents and the European air transportation sector. The recent interruption of the supply chain due to the winter weather itself (which also affected rail transport and resulted in truck bans being imposed by the authorities) is not a situation that should be repeated.
Special services in the terminals
Along with Winter Services teams that clear the snow and ice outdoors, Fraport's Special Services teams worked diligently indoors to assist passengers in the terminals. Fraport has developed a systematic approach to providing special services which included distributing free food and drinks to waiting and stranded passengers, offering medical assistance, providing entertainment, helping with alternative means of transportation directly at the airport (high-speed trains, local trains, taxis, etc.), 2,000 free camp cots and blankets for sleeping in the terminals (especially for transfer passengers in the transit area.) Keeping passengers as comfortable as possible is a top priority for FRA, particularly transfer passengers who get "stranded" at FRA and are waiting for a connecting flight. With about 53 percent of all passengers connecting to another flight, Frankfurt Airport has the highest transfer rate in Europe. As a service to passengers, some retail shops also extended their operating hours on the days of extreme winter weather. FRA has a 24/7 medical clinic located right in Terminal 1, pharmacies and other facilities relevant for stranded passengers. Boasting the most extensive intermodal rail services, FRA with its regional train station and Long-distance Train Station for high-speed trains is able to offer some passengers alternative transportation when flight disruptions occur.
Highlights
On December 8/9, 2010: From 22:09 (Wednesday night) to 02:17 (Thursday morning) takeoffs and landings at FRA were not possible. Although our Winter Services team worked nonstop throughout the evening and night, the heavy snowfall prevented us from keeping the runway system free of snow and ice for a while. Obviously, safety is our highest priority. When runway breaking measurements do not meet the required safety standards – despite repeated clearing of the runways – we have no choice but to stop flight operations temporarily. Due to the storm-related flight delays and cancellations, some passengers had to be accommodated during the night in hotels throughout the region. For those passengers who stayed overnight in the terminals, Fraport activated additional service teams to provide care and supplies such as complimentary drinks and snacks as well as blankets and sleeping cots.
On December 21, 2010: From 05:06 to 08:30 in the early morning, the runway system was closed due to the sudden and heavy snowfall in the early morning hours. By 08:30 CET, all three runways at Frankfurt Airport were clear of snow and ice. The goal was to return to regular controlled flight operations at FRA as quickly as possible, following the winter weather that gripped the interconnected European aviation system again during the past few days. Fraport focused on trying to make the situation for its passengers as comfortable as possible. Our expanded service teams distributed free snacks and drinks, clowns and other entertainers circulated throughout the terminals to keep the youngsters, in particular, happy and to make the time on the ground pass by faster.
Moving snow mountains
Clearing the snow is not the only challenge at FRA. With so much ground traffic and limited space, particularly around the terminals, the need to get rid of the snow is great. Following the last major snow storm in December, a mountain of more than 47,000 metric tons of snow – about 4,100 truck-loads – were removed from December 23, 2010, to January 13, 2011, to the Main-Taunus Recycling GmbH disposal site at the nearby town of Flörsheim-Wicker. Here the snow is stored for melting and subsequent water treatment. This snow disposal operation was necessary in case more snow storms hit the airport in the remaining weeks of winter. Furthermore, for environmental reasons some of the snow has to be sent to the disposal site for treatment.
Easing flight restrictions helps
On days of extreme winter weather, restrictions such as night flight bans are flexibly handled by the German national authorities to facilitate a smooth return to normal flight operations at airports. This is another important measure that can help get the backlog of passengers and flights back into the air as quickly as possible.
SESAR – Integrating European Skies and ATC
Last but not least, it is important to mention the vital SESAR (Single European Sky ATM Research) programme, which will also be beneficial in helping European aviation with the challenges of weather-induced air traffic problems. Together with other airport operators and major industry partners Fraport is a key member participating in the European SESAR programme aimed at actively modifying and enhancing European air-traffic-management for the challenges of the future. In 2009, Fraport and five other major European airport operators formed the SEAC consortium to become a member of the SESAR Joint Undertaking (BAA Airports Ltd, Flughafen München GmbH, Schiphol Nederland B.V., Aéroports de Paris and Flughafen Zürich AG). By introducing new technologies and linking the various aviation partners more closely together, SESAR will achieve more reliable planning across Europe and increase the ability to predict and mitigate the effects of adverse weather periods such as snow or fog. The mission of the SESAR Joint Undertaking is to develop a modernised air traffic management system for Europe. This future system will ensure the safety and fluidity of air transport over the next thirty years, will make flying more environmentally friendly and reduce the costs of air traffic management.
About the author
A 20-year veteran of the airport industry, Canadian-born Robert A. Payne is Senior Manager for International Press (Corporate Communications) at Fraport AG, the Frankfurt Airport company. During this time, he has seen air transportation develop into a complex interdependent network of gateways, airlines, ATC and other partners who need to work closely to meet the challenges of the 21st century. Mr. Payne is also a member of German-Canadian Business Club Frankfurt and Heidelberg Club International.