A facelift for LAX
Did you know that Los Angeles International Airport (LAX) is currently undergoing one of the largest infrastructure programmes in L.A.? Keith Wilschetz, Deputy Executive Director of Operations and Emergency Management for Los Angeles World Airports (LAWA), shares the details here.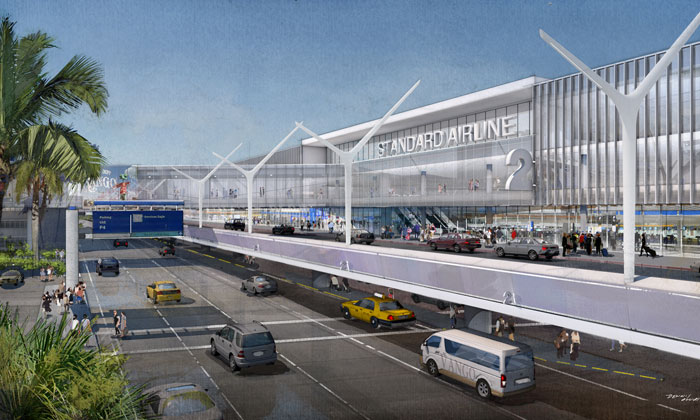 As the fourth busiest airport in the world, and second busiest in the United States, LAX offers 692 daily nonstop flights to 91 U.S. cities and 1,220 weekly nonstop flights to 78 international destinations in 41 countries on 66 commercial air carriers. To maintain an excellent level of service for airlines and passengers, LAX has recently undergone major enhancements and will unveil a series of modernisation improvements over the course of the next decade. In May 2017 LAX completed one of the largest terminal moves in the history of commercial aviation. Initiated by Delta Air Lines' need for more aircraft gates, 21 airlines relocated their service equipment, network infrastructure, employees and aircrafts to another terminal. An additional seven airlines also opted to move their ticket counters in their current terminals.
The next major renovation at LAX is a $5. 5 billion programme, dubbed LAMP (Landside Access Modernisation Programme), designed to elevate passengers' arrival and departure experience by giving visitors a swift and reliable way to access the airport
The move provided Delta Air Lines with seven extra gates, whilst giving Delta's passengers easier access to the airport's Tom Bradley International Terminal and to Delta's partner carriers. On top of this, Delta is investing $1. 9 billion into terminal improvements, including a post-security connector between Terminals 2 and 3, which enables travellers to catch their next flight at another terminal with ease. The next major renovation at LAX is a $5. 5 billion programme, dubbed LAMP (Landside Access Modernisation Programme), designed to elevate passengers' arrival and departure experience by giving visitors a swift and reliable way to access the airport.
Construction is scheduled to begin when all environmental approvals are finalised. Completion of phase one, estimated for 2023, consists of four complementary components: two new transit hubs; a consolidated rent-a-car centre; an automated people mover that will connect passengers to airline terminals from Metro's planned transit station and the aforementioned new facilities; and traffic and roadway improvements. In addition, a LAX Metro station will open in 2024 as part of Metro's Crenshaw/LAX Transit Project, enabling travellers to connect to L.A.'s wider metro system. Alongside these projects, LAX has implemented vital smaller-scale improvements over the past few years. To accommodate the growing number of air routes and aircrafts, LAX is building a $1. 6 billion Midfield Satellite Concourse, which will act as a state-of-the-art, five-level extension of the Tom Bradley International Terminal. The 750,000ft2 extension will feature a new baggage system along with 12 new gates, and will be connected to the Tom Bradley International Terminal by a 1,000ft-long underground pedestrian tunnel with moving walkways. In 2016 LAX launched the Terminal 4 connector, allowing post-security travellers to move freely between the international terminal and Terminals 4 to 8.
As part of the expansion and renovation plans, LAX has transformed many of its public areas into art spaces with permanent public art commissions and temporary art exhibitions and installations. Presented in partnership with the City of Los Angeles Department of Cultural Affairs, the LAX Public Art and Exhibitions programme currently consists of seven exhibits and installations across three terminals. A few of the art highlights include:
'Air Garden' by Ball-Nogues Studio, a largescale sculpture which appears like an oasis amid the bustling retail and concessions filling the Tom Bradley International Terminal with a sinuous and dynamic cloud of colour
'Bell Tower' by Mark Bradford is suspended from a skylight above the TSA security screening area in the Tom Bradley International Terminal, providing a prominent focal point for the vast hall and marks its transition from a public space to a restricted one. Modelled on a medieval bell tower, it cites its dual purpose as both a civic gathering spot and a source of surveillance
'ΣLAX' by Pae White, also located in the Tom Bradley International Terminal, is a linear sculpture that inverts the idea of functional infrastructure. Turning security into art and art into security, it develops an alternative system of baroque 'P' shaped brackets strung with or without brightly coloured cordage. The piece of work includes 7,484 gold brackets, 11 of which are solid 14 karat gold
'Gate Pass' by Nicole Rademacher explores correlations between public and private acts of personal protection as interpreted through the fixture of home gates. The artist documents these imposing physical boundaries through a three-channel, colour, HD video and six photo dioramas, observing the daily occurrences both inside and outside the gates located in Terminal 3 Departures
'We've got to cross this great big world somehow' by Megan Geckler, located in Terminal 3's Departures Atrium, uses 360 strands of hand-dyed diamond braid rope to create a monumental sculptural installation. This piece of art is the visual result of an architectural and mathematical study of the site's soaring atrium, enriching the passenger experience by infusing the space with vibrant colours and dramatic shapes. Hundreds of colourful ropes are suspended from the windows and clustered to form a giant 'X' on the platforms, suggesting connections between points and people, whilst also representing the hourglass and the cycle of time
'Street Seen' by Marissa Roth is a series of 28 chromogenic photographic prints located in Terminal 6 Departures that capture the street level view of Los Angeles. A native Angeleno, Marissa Roth was inspired to get out of her car and photograph the streets of her city as a pedestrian, resulting in a view of Los Angeles often missed when driving or flying
'Translation' by Olga Lah is a site-specific installation that uses hundreds of opened paperback books to form an undulating wall to explore our life's memories and how we choose to translate them into personal stories and collective narratives. The artist uses paperback books to demonstrate her facility with selecting a quotidian object and elevating it to represent the narrative of our life experiences. Located in the Tom Bradley International Terminal, the installation explores the concept of translation as a metaphor for how our lives are informed through the interpretation of our memories.
In addition to the airport's exciting public art agenda, LAX has launched a dynamic new musical arts programme, arranged in partnership with Grand Performances, who host exhilarating, free-of-charge concerts in Downtown Los Angeles throughout the summer months. From June 2017 through to November 2017, travellers at LAX will be serenaded by the likes of Paul Jacob Cartwright, Justo Almario and Cambalache within the airport's main buildings, demonstrating once again that LAX is completely dedicated to providing a five-star holistic travel experience for all customers.
As well as investing in infrastructure, LAX has also invested in less orthodox methods of relieving the stress and boredom of modern travellers. On the departure level, LAX launched a sophisticated musical arts programme this year to provide fun, live entertainment and the airport's popular PUPs (Pups Unstressing Passengers) team is often out on patrol to deliver kisses and snuggles to travellers. From an infrastructure standpoint, LAX has taken steps to reduce travellers' stress and create positive experiences. LAX recently rolled out automated passport kiosks for international arrivals, allowing travellers to submit their customs declaration form and biographic information electronically, which in turn reduced the amount of time spent with a CBP officer and ensured an efficient entry process.
These exciting improvements at LAX will surely deliver a 360-degree facelift for the airport, help create an efficient, seamless and entertaining travel experience, and provide a world-class welcome to the city of Los Angeles.
KEITH WILSCHETZ became Deputy Executive Director of Operations and Emergency Management for Los Angeles World Airports (LAWA) in January 2017. Keith has 30 years of experience in airport planning, operations and leadership with previous positions including Director for Airport Planning & Noise Mitigation (San Diego Regional Airport Authority); Vice President of Planning (Dallas/Fort Worth International Airport); and Director with Landrum & Brown, Inc. as Technical Co-Manager on the LAX Master Plan. Keith earned a Master of Science in Executive Leadership from the University of San Diego and a Bachelor of Science in Aerospace Engineering from the University of Missouri in Rolla.
Issue
Related topics
Related airports