International Airport Review top 10 stories of 2015
2015 was an exciting year for the airport industry, with appearance of new technologies, numerous modernisation and development projects announced and a record number of passengers. International Airport Review has put together our highlights, based on what our readers have been looking at the most…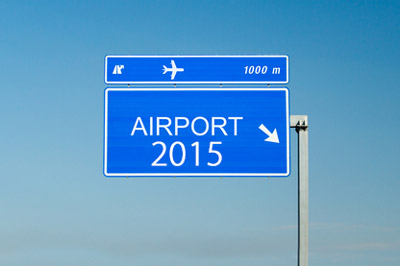 1. New system developed to transform airport ground movement
In July 2015, the University of Lincoln announced a new airport ground movement system to provide quick and fuel-efficient routes for moving aircraft.
2. Work begins on Dublin Airport €20 million modernisation project
In September 2015, work began on a £20 million modernisation project to improve the aviation aprons at Dublin Airport. Due to be completed in 2019, the new apron pavements should have a lifespan of 30 years.
3. Plans revealed for largest roll-out of remotely operated air traffic control towers
In September 2015, Norwegian airport operator, Avinor, announced a plan for the world's largest roll out of remote air traffic control towers in a bid to provide safe and efficient future operations.
4. SESAR SWIM keeps airports in the ATM loop
In order to meet European Single Sky initiatives, SESAR is developing a new generation ATM system in which airports play a central role.
5. Munich Airport installs energy saving technology at satellite terminal
Munich Airport's new satellite passenger terminal will see CO2 emissions 40% lower than those emitted by the airport's existing terminal buildings. The savings were announced in December 2015. The terminal is due to open in 2016 – you can read about it in International Airport Review issue 2 2016 (published March 2016).
6. Gatwick vs Heathrow: Have your say!
The debate about airport expansion in London has been gathering pace since 2012 when the Airports Commission was first established. Although we're still waiting for the final ruling to be announced, in November 2015 International Airport Review asked its readers which airport should be expanded…
7. Dubai World Central: The world's largest airport in the making
50km south west of Dubai International Airport, a brand new city is rising and at its centre sits Dubai World Central – once finished this sprawling airport city will be the largest airport in the world.
8. The way forward – Miami International Airport
In November 2015, Miami International Airport invested in sophisticated IT in the form of 'beacon technology' in a bid to revolutionise the passenger experience.
9. Heathrow introduces Mobile Display Units at Terminal 5
In November 2015, Heathrow Airport installed mobile display units (MDUs) in Terminal 5 to provide live up-to-date information to passengers during peak times. Battery-powered and connected to the airport's central management system by Wi-Fi, the MDUs were designed to provide a better journey for Heathrow's passengers.
10. COP21: 50 carbon neutral airports by 2030
The European airport industry announced its commitment to increase the number of carbon neutral airports to 50 by 2030. Announced at COP21 – the United Nations Conference on Climate Change – in December 2015, the commitment builds upon initiatives already implemented by ACI Europe.
Related topics
Related organisations