Final Call with Alison Conroy, Aebi Schmidt UK Limited
Alison Conroy, UK Sales and Marketing Manager at Aebi Schmidt UK Limited, discusses the challenges that winter brings to airports and how effective equipment and an efficient strategy can make all the difference to smooth operations…
Alison Conroy, UK Sales and Marketing Manager at Aebi Schmidt UK Limited, discusses the challenges that winter brings to airports and how effective equipment and an efficient strategy can make all the difference to smooth operations.
Climate change is constantly bringing challenges to the airport and aviation industry. How are you developing your products to help airports cope with extreme cold conditions?
All of Aebi Schmidt's equipment is manufactured and fitted with cold starting devices and insulation. For extreme cold temperatures we have an Airport Spreader called the Lava. This is specially designed for de-icing airport runways, taxiways and aprons. Put simply the spreader has an insulated water tank and a sand hopper. During the spreading process, water flows through a heating unit taking it to 90°C. Hot water is then combined with the sand, which is distributed by the spreading disc. Combined correctly this creates a special sand-water mixture (which is where the term Lava comes in) and a 'sandpaper' effect is created on the icy surface. The lava freezes immediately on contact with the surface thus forming a high level of friction. So in conditions where traditional de-icing agents are no longer effective the surface is made useable again (subject to local aviation regulations).
Airports need to clear and clean their runways as quickly as possible during snowfall. How can your products be of benefit in these circumstances?
During snowfall it's vital to have the fastest most efficient clearing methods possible. Our 8m ploughs and efficient 6.4m snow brushes make this happen. By using the right number of units (for instance our TJS630) in the right combination, clearance times can be drastically reduced.
What advice can you give to airports to help them create the best possible winter operations strategy?
We work very closely with all our airport customers to assist in putting together an efficient and effective winter operations strategy; establishing the right type of equipment, the correct numbers of clearing and de-icing machines, maximising opportunities and minimising disruption and downtime. Making it easy for our customers to deal with us and giving them peace of mind through our Total Lifetime Care ethos hopefully helps to ease the burden on the managers and operators. With years of experience in our airport teams throughout Europe and North America, we have a wealth of knowledge we can share in order to work with our customers to achieve their goals. By constantly listening to feedback we can also update our equipment to best suit the changing winter environment and meet head on the different challenges we all have to face.
Biography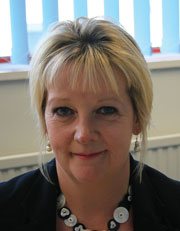 Alison Conroy has been working with Schmidt for over 11 years and has held various roles within the company, including Sales Support Manager, Area Sales Manager – Winter and Sweeping, and now UK Sales and Marketing Manager. As well as responsibility for managing all sales and marketing related staff and activities, both internally and externally, Alison also works closely with airport and key account sales.
Real time, real action – introducing ingenious modular software, Schmidt Telematics
Being able to access large quantities of real-time information is not new. But up-to-the minute mobile data is only of benefit if it can be converted into practical and useful management information. That is exactly what Aebi Schmidt's DMi software provides: intelligent information that is quick, easy and transparent to use.
So, what is it all about? At the centre of Aebi Schmidt's DMi is a modular, web-based intelligent software package that enables customers to switch quickly and smoothly from planning activities to monitoring their implementation or reporting on performance. The real-time aspect of the application means that visual images can directly lead to actions, reports can be made shortly after the activity, work can be planned and executed directly, and accountability is clear. 
The tool is perfect for airports. With Schmidt's Winter Report Telematics, one click can show the customer all the de-icing activities quickly and clearly from the de-icing vehicles. And with Schmidt's Airport Report, the module provides real-time insight into all airport support activities. To ensure that the airport remains accessible, two systems allow the customer to respond appropriately to any situation that may arise.