Airport Retail: The best of British at Heathrow's Terminal 2
Posted: 28 July 2015 | Jonathan Coen, Retail Director at Heathrow Airport
The opening of Heathrow's Terminal 2 in June last year marked the latest phase of an £11 billion private sector investment programme that has transformed it from an airport of the 1950s and 1960s to a world class hub for Britain. Retail Director Jonathan Coen explains some of the innovations put in place at Europe's busiest airport…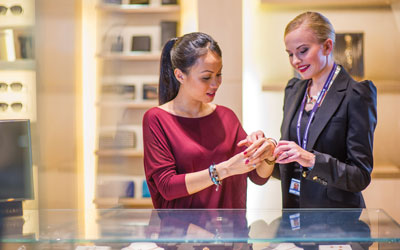 The original Terminal 2 was Heathrow's first passenger terminal. When it opened in 1955 it was the most modern airport facility of its day. Tents and huts were replaced with a shining new terminal and a modest shopping offer consisting of a small 'hole in the wall' duty free store, a WH Smith & Sons, a pub patriotically named the 'Britannic bar', a 'Grill & Griddle' restaurant and a rooftop viewing gallery. In the years that followed the terminal witnessed the arrival of The Beatles, Marilyn Monroe and Brigitte Bardot.
But by the turn of the 21st century Terminal 2 was showing its age. It had been planned for a time without airport security or immigration halls. Originally designed to welcome one million people, by the year 2000 it was straining under the weight of eight million.
The opening of Terminal 5 in March 2008 created the opportunity to demolish the old building and make way for a modern terminal to replace Terminals 1 and 2. The new terminal is a £2.5 billion project that has been named in honour of Her Majesty Queen Elizabeth II – The Queen's Terminal. With it has come the next generation of the Heathrow shopping experience emphasising the uniqueness of British brands, innovative dining options and the importance of personalised service.
The best of Britain
As the UK's hub airport, representing the 'best of British' has been a responsibility that Heathrow has been keen to take on. Terminal 2 has been celebrated for being home to some of Britain's best loved brands including Burberry, Paul Smith, Cath Kidston, Ted Baker and Mulberry. These brands, making up almost 70% of Terminal 2's retail space, form an important part of the journey of international passengers visiting the country.
Heathrow's research shows foreign visitors highly value the unique experience and products offered by British brands, and these customers will often delay purchasing British items in their own country so they can have the full brand experience while they are in the UK. Heathrow's online presence (www.heathrow.com/boutique) also means these customers can take advantage of the airport's tax free prices while ensuring the items they covet are available when they arrive.
John Lewis also chose Terminal 2 to make their debut in airport retailing. The appointment of this heritage brand was pivotal to Heathrow's ambition to bring the 'best of Britain' to international customers. John Lewis has made its plans for international expansion clear, leveraging a hotly contested position at Terminal 2 which allows them to showcase their brand in front of passengers from over 80 different countries. With products ranging from fashion, small gifts and even linen, this store has quickly become a popular destination for passengers.
Runway dining
Terminal 2 customers are truly spoilt for choice when they choose to dine before take-off with 17 restaurants including Wondertree by Russell Joffe, London Pride by Fullers, La Salle – a French brasserie, a brand new concept in premium luxury dining – The Gorgeous Kitchen and family favourite Leon. The restaurant offering has been curated by a food and beverage team who challenge traditional expectations of what dining at an airport should be. As a result, Heathrow is currently the only airport in the world with two restaurants designed by Michelin-starred chefs.
Beginning with the opening of the much loved Gordon Ramsay's Plane Food at Terminal 5, Terminal 2's opening welcomed the arrival of Heston Blumenthal's The Perfectionists' Café. Inspired by the 'In Search of Perfection' TV series based on Heston's years of research and development work, the menu at The Perfectionists' Café celebrates some of Britain's favourite dishes and embraces the eccentricity of Great British invention with such novelties as a liquid nitrogen ice cream maker. Burgers are made by grinding all the meat grains in the same direction to maximise the juiciness of the meat while traditional fish and chips are served with the ultimate crunchy batter while pizzas are cooked in a wood burning oven in just 60 seconds.
Dining at Heathrow provides unique challenges for every restaurant at Heathrow including the requirement for breakfast to be served all day, allowing for international body clocks and a need for a selection of dishes to be part of a '15 minute menu' ensuring everyone can enjoy an indulgent meal, regardless of their departure time. Heathrow is also the only airport with onboard picnics available for takeaway at every restaurant, allowing those passengers who like to dine onboard the opportunity to choose their favourite dish to savor at 30,000ft.
A personal touch
The opening of Terminal 2 also saw the launch of the world's first ever airport personal shopping lounge, allowing customers to enjoy a bespoke consultation in the privacy of their own lounge. This service was borne out of a desire to deliver passengers a personalised service when they fly, matching the expectations set by even the most sophisticated of London boutiques. Heathrow passengers now have the opportunity to secure a time with an accredited stylist, ensuring they can make the most of those precious moments before take-off.
The unique service brings together over 400 outlets at the airport with a consultation that can be booked ahead of time or accessed on arrival at the airport. Whether it's an extraordinary dress for an evening event, a new season update or even advice on the latest beauty trends, Heathrow's Personal Shoppers are available from the first to last flight of the day. Fluent in Chinese, Russian, Arabic, Mandarin, Spanish, French and Portuguese, Heathrow's multilingual team are qualified to assist passengers from across the globe.
Over the next fifty years the new Terminal 2 will welcome nearly one billion passengers. As well as being home to some of the world's most successful brands, Terminal 2 will continue to play a critical role in the UK's success. It will be the first impression of the UK for millions of foreign visitors and the last memory of home for millions of Britons going abroad. We look forward to welcoming you to Heathrow's new Terminal 2.
Biography
Jonathan Coen has more than 17 years of experience in airport retailing across commercial planning, category and space management roles at Gatwick, Stansted and Heathrow. After a short period directing the development of the airport's state of the art baggage programme, he is back at the helm of Heathrow retail overseeing the passenger offer of shops, restaurants, luxury and media spaces.