Reduction of carbon emissions at Adelaide Airport
In May 2015, Adelaide Airport became the first airport in Australia to be recognised by the global Airport Carbon Accreditation programme for optimising its management and reduction of carbon emissions. Stephanie Bolt, Environment Manager, gives further details…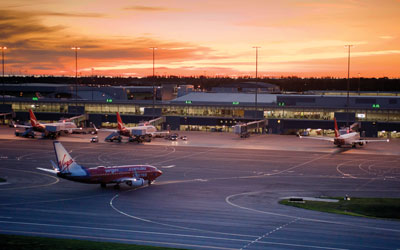 Adelaide Airport Ltd (AAL) is now certified as Airport Carbon Accredited at Level 3 ('Optimisation') for its work in reducing its carbon footprint whilst also working to guide and influence stakeholders to do the same. We are just the seventh airport in the Asia-Pacific region to reach this level. It has been a long journey to reach this point, requiring a high degree of commitment from the senior executive level down.
Adelaide has been measuring its carbon footprint since 2007 and became a member of Airports Council International Airports Carbon Accreditation (ACA) scheme in 2013. We are already a leader in Australia – being the first to achieve ACA Level 1.
Adelaide Airport serves as the gateway to the state of South Australia. It caters for close to eight million domestic and international passengers a year. Destinations include all other Australian mainland capital cities, as well as New Zealand, South East Asia and the Middle East.
As with any major airport, it is a significant economic driver for South Australia, with an estimated socio-economic benefit of approximately $1.9 billion annually – or roughly 2% of Gross State Product.
It is also South Australia's largest single site employment precinct, with approximately 6,200 people working within the airport precinct, and a further 2,500 directly employed as a result of the collective activities of the corporate community at the airport.
In late-2014, the airport unveiled a new 30-Year Vision to more than triple the size of its domestic and international terminal, and create an 'Airport Business District' featuring industry clusters and a new hotel.
Adelaide Airport has distinct advantages for commuters and businesses, in that it is just 6km from the city CBD and is central to other major transport corridors including road, rail and sea.
With this inner-metropolitan location comes sensitivities and responsibilities. The airport is surrounded by residential development, and has a curfew operating between 11pm and 6am.
AAL sees it as a part of its key corporate responsibility that it pays particular attention to its environmental impact, particularly given the close proximity of neighbouring residents and businesses.
Our Strategic Plan recognises sustainability as a key philosophy that underpins our future.
We see ourselves very much as an environmental leader in the aviation industry – from airfield lighting to green-rated buildings.
The current domestic and international terminal, completed in 2005, features a building management system that monitors conditions and places air conditioning and lighting in standby mode if not required. Stormwater captured from the adjacent car park's roof is recycled for use in the terminal's air conditioning system. The airport is also a major customer of recycled wastewater from the local treatment plant, which is used to irrigate large areas of landscaped gardens and supplies all the toilets in the terminal building.
The terminal houses a 114 kilowatt solar system, which was the biggest in South Australia at the time of completion in 2008. We also have bicycle storage facilities and purchased an electric vehicle for staff-use around the precinct.
All taxiway and runway centre line lighting has been replaced with energy-saving LED lights and LED apron lights will soon be installed on a new apron development. A recently completed office building, home to the Australian Federal Police, has a 4-star Green Star and 4½-star National Australian Built Environment Rating System (NABERS) rating.
AAL sets carbon and energy reduction objectives and goals in each five-year Airport Environment Strategy, a document developed in accordance with requirements set within the Australian Government's Airports Act 1996 and aligned with AAL's Sustainability Policy and Low Carbon Statement.
However, we view this process of improvement as a continuous one.
This process starts both within our precinct and with the support of surrounding land users. AAL engages extensively with stakeholders on various issues, including carbon reduction, on a regular basis. This is achieved via established consultation groups, relationships with government and compliance bodies, and via our website and other communication channels.
Virtually all of Adelaide Airport's emissions are energy related, that is electricity consumed (85%), fuels used (5%) and natural gas consumed (1%). The technical potential to reduce the footprint therefore means reducing the quantity of energy used, or reducing the emissions intensity of the energy we consume.
Over the past five years we have reduced per passenger electricity consumption in the terminal by 10% and per passenger greenhouse gas emissions by 17%.
In 2015, our goals are to further reduce AAL's per passenger electricity consumption by 10% and commensurate greenhouse gas emissions by 2019.
Airport Carbon Accreditation
Airport Carbon Accreditation was first launched by ACI Europe in 2009, and was extended to ACI Asia-Pacific in November 2011, ACI Africa in June 2013 and ACI North America in September 2014. It is an independent programme administered by WSP Group – an international consultancy appointed to enforce the programme's strict certification criteria.
Airport Carbon Accreditation is a voluntary, internationally-renowned, institutionally-recognised carbon standard for the airport industry.
ACI Airports Carbon Accreditation Level 3 requires airports to extend their carbon footprints to include indirect emissions caused by activities that are essential to airport operations and which are operated and/or owned by third parties.
Since airports need these activities to be performed for their ongoing operations, it is a realistic expectation that they will be able to guide or at least have some influence over these emissions. The trick is to work out what we can control, what we can guide and what we can influence.
Regular and effective communication of energy and carbon data, goals, progress of individual projects and initiatives and audit results is a key component of carbon management at Adelaide Airport.
As airports who have gone down this path would know, the process of calculating the carbon footprint of operations, while an essential part of the process, is resource intensive.
That's particularly the case for accurately calculating electricity from ours and tenant operations, modelling emissions from aircraft movements, calculating emissions from passenger vehicles, taxis, buses and trucks to and from the airport, and calculating emissions from vehicles operating airside. It involves multiple tenants, operators and external agencies.
A key factor in Adelaide Airport achieving Level 3 accreditation was our long-established relationships with regulators, air space navigation provider (AirServices Australia), tenants and operators.
AAL has run and participated in successful consultation and technical forums that have enabled engagement on issues relating to airfield and aviation operational efficiency, tenant environmental management, landside transport and terminal planning. These have formed the foundation of initiatives and projects that guide and influence our stakeholders in reducing their carbon footprint.
In 2014, AAL released its first Low Carbon Statement, which commits us to measuring and reducing our carbon footprint on an ongoing basis, and encouraging partners, suppliers and other users of the airport to do likewise.
Our Low Carbon Statement recognises the impact that the aviation industry has on greenhouse gas emissions and the contribution from airport operations. Although airports represent a small portion of those emissions, they can provide opportunities for airlines and tenants to lower their emissions.
We are also conscious that climate change and carbon risk management are an essential aspect of operating a sustainable business over the long-term. As a part of South Australia's critical infrastructure, we consider this approach to be good risk management.
The management of carbon is becoming a key aspect of how we do business, to such an extent that considering carbon impact is being included in the job description of everyone in our team – from executive directors to car park staff and the customer service team.
Adelaide Airport has recently embarked on a company-wide initiative called 'Reducercise' to pro-actively engage staff in contributing to airport sustainability. 'Reducercise' promotes the idea of minimising our environmental footprint – at work and at home – using fun slogans and music to communicate a more serious message.
In terms of specific roles, the Environment Manager, supported by AAL's Executive Committee, is designated the Airport Carbon Manager and is responsible for the overall coordination of the Carbon Management Plan. This includes allocating resources, designating responsibility, data monitoring, and reviewing performance of the Plan's implementation.
The Commercial Manager is designated the Energy Manager and is responsible for detailed monitoring of AAL and tenant energy use and analysing progress against goals. The Commercial Manager reports anomalies in energy consumption, carbon impact of company investments and energy reduction projects, and overall progress against carbon and energy goals.
In addition, all departments are also responsible for finding ways to reduce our carbon footprint, whether it be in new infrastructure, more efficient lighting fixtures or in campaigns to raise awareness of the airport's sustainability vision to the general public.
Biography
Stephanie Bolt has been the Environment Manger at Adelaide Airport Limited since 2005, responsible for overseeing the company's sustainability, environmental compliance and wildlife management programmes. Prior to this she was a Senior Environment Advisor at the Zinifex (now Nyrstar) Smelter in Port Pire and spent many years in various environment and natural resource management consulting roles in Australia and Singapore. Stephanie has occupied positions on numerous industry bodies including the Asia-Pacific Environment Committee of Airports Council International, South Australian Freight Council's Sustainable Supply Chain Committee, Australian Aviation Wildlife Hazard Management Group, and Property Council of Australia Sustainability Committee (SA).