New pavement technology for Seattle-Tacoma's runway reconstruction
Posted: 2 June 2015 | Michael Ehl, Director of Aviation Operations, Seattle-Tacoma International Airport
Having been in service since the 1960s, Seattle-Tacoma International Airport's centre runway is undergoing a major reconstruction to bring it up to modern standards. As Director of Aviation Operations Michael Ehl describes, the development is also an opportunity to introduce new lighting and safety systems…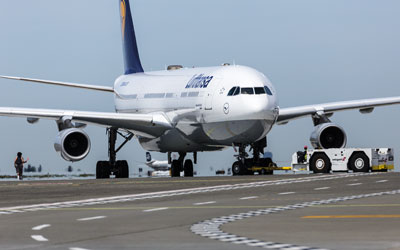 In its 70 years of service, Seattle-Tacoma International Airport (SEA) has had numerous runway configurations. This may appear remarkable to a meteorologist – given the predominance of historically southerly winds – but these changes have been driven by technological and environmental concerns. When it officially opened to commercial operations in the 1940s, SEA was designed with four runways to serve the booming air transportation needs of the post-war Pacific Northwest. Now, seven decades later, as the airport experiences record breaking growth, an investment of $1.2 billion has created three parallel runways. These serve distinctly different needs to the original four and are designed to support this large hub into the next 20 years, as envisioned by the Sustainable Airport Master Plan currently underway.
In tradition with the times, the original airfield design for SEA incorporated one northsouth, one east-west, and two crosswind runways. By the 1960s, aircraft performance requirements and noise concerns meant that all but the north-south surface was gone, replaced with the addition of the parallel 16R/34L runway in 1969. The 20 year design life built into the concrete of that runway passed quickly, overshadowed by advent of the widebody age and the growth in traffic following airline deregulation. Thus in 1988, the focus shifted to the region's future air transportation capacity needs and the consideration of a third parallel runway.
However, to facilitate continued operations of both runways during the lengthy process necessary to justify, plan, design and build a third runway, a strategy was needed to extend the useful life of the existing surfaces. Ultimately, 16L/34R received a full asphalt overlay in 1992, while 16R/34L was to undergo a systematic multi-year annual replacement of selected failing concrete panels beginning in 1993.
Operations at SEA peaked in 2000 at approximately 446,000 movements, by which time hundreds of panels had been replaced on 16R/34L, and by which time, the proposed new runway had encountered opposition to its construction. Clearly, annual panel replacement would need to continue until the airport had the opportunity to eventually close and reconstruct each of the two existing runways, but only after it was made operationally possible by the commissioning of the third runway.
In November 2008, 20 years on, SEA's third runway, 16R/34L, opened to operations. As planned, the reconstruction of 16L/34R followed in 2009 given its importance as the airport's longest runway at 11,900ft. Meanwhile, the re-designated 16C/34C celebrated 40 years of service as the US economy tumbled into deep recession.
Thus ensued a precipitous drop in operations and mounting airline financial losses in 2009, necessitating the development of five alternatives for timing the reconstruction of 16C/34C. Three alternatives considered complete multi-year panel replacement; another, the immediate full reconstruction of the runway; and the final, a combined five year limited panel replacement program followed by a full year reconstruction. Guided by a financial analysis defining the lowest net present value, the combined approach was mutually accepted by both airport and airlines for implementation in 2011-2016. Additionally, $700,000 was approved for funding a 60% design effort in 2010 which would allow construction to proceed more quickly should the economic climate improve or if incidents of pavement failure increased.
Continuing panel replacement subsequently occurred in years 2010-2014. In 2014, with an increasing frequency of concrete spalling and an increased potential for FOD related aircraft incidents, SEA determined that the reconstruction effort could be delayed no further and accelerated project completion from 2016 to 2015.
Centred on safety
Founded on an overarching strategic commitment to operate a world class airport and a team culture steeped in a safety-centered and industry leading philosophy, the design considerations for a new 16Center/34Center were established to advance performance rather than maintain the status quo. Key performance indicators such as reductions in runway incursions, wildlife strikes, and energy consumption; and a view towards evolving fleet compatibility resulted in a project that went beyond the scope of simple pavement replacement and renewal.
Using runway incursion data collected over several years, the complexity of intersecting surfaces at Taxiway Hotel, Taxiway Juliet, and Runway 16L led to the identification of that area as having the highest incidence of runway incursions and thus leading to the decision to reconfigure the intersection as part of the runway reconstruction. At the same time, SEA's long history of technological airfield innovation set the expectation for incorporation of the latest technologies in the program.
Previously, SEA milestones included: the first installation of a surface movement and guidance control system for low visibility operations in 1992, deployment of a local area augmentation system in 2002, the first US airport to install laser guided docking systems in 2004, use of avian radar for dispatching wildlife dispersal efforts in 2012, installation of runway status lights in 2014, and publication of required navigational performance and optimised descent profile approaches in 2015.
Foreign Object Debris (FOD) detection equipment has been of interest to SEA since its earliest appearance in trials at Vancouver and John F Kennedy airports. Unfortunately, the cost benefit equation of such an important tool can be lost on many stakeholder groups given a relative lack of baseline data and thankfully, an infrequent occurrence of high profile incidents involving FOD. Such factors however, do not remove our collective industry obligation to further reduce risks inherent in the airfield operating environment.
With a real world threat demonstrated through concrete spalling incidents on 16C/34R, an increased interest by our airline partners in probable cause FOD events, and the desire to establish a baseline of data on which to base our FOD reduction goals, the die was cast for inclusion of FOD detection equipment in the reconstruction scope of work. Peripherally, a desire to accommodate Aircraft Design Group VI aircraft on the rebuilt runway supported the use of FOD detection and surveillance to monitor the effect of larger wingspan aircraft on the runway environment. Finally, FOD detection equipment can be designed and utilised as a complimentary wildlife hazard mitigation tool, particularly at SEA, where avian radar technology will overlap the low-level capabilities of surface detection made possible by FOD detection sensors. Speakers incorporated into the runway edge lights also deliver audible wildlife dispersal broadcasts.
The true potential for FOD detection cameras as the selected technology solution at SEA is yet to be realised but certainly hints at other benefits such as: specific threat identification, bolstering signage and lighting inspections, surface condition monitoring, real time and post-incident documentation, vehicle tracking on the airport movement area and integration into vehicle laptop and handheld mobile devices.
'Green' light ahead
Light Emitting Diode (LED) airfield lighting applications are no longer unique in the global environment and are delivering benefits as anticipated by early adapters. SEA has long held a view that we will be leading edge, rather than bleeding edge proponents in the application of airport technology. As such, neither the completed construction of Runway 16R/34L in 2008, nor the reconstruction of Runway 16L/34R in 2009 incorporated LED airfield lighting componentry by design. The cost/benefit equation simply was still too unbalanced in terms of risk to have proceeded at that time. Ironically, the five year delay in implementation of the 16C/34C project provided the time necessary to refine and bring to market LED lighting and FOD radar, both long-desired advancements envisioned for the program.
However, this also means that the earlier lighting system decisions and investments set the stage for subsequent developments. As such, full benefit realisation is hampered by our current choice not to replace lighting regulators, and instead only install LED lighting fixtures as a 'right thing to do' compromise solution. This holistic view, encompassing the interests of facilities and infrastructure, maintenance, and operations personnel, produces an overall bullish outlook in our final assessment:
Extended lifecycles for LEDs and fewer replacements in the field produce a safer operating environment
Enhanced visual acuity at an airport, where ceilings are below 5000ft and visibility is below five miles for 40% of the year, benefits flight crews flying approaches to 16/34Center
Energy savings are projected to be 53% towards our strategic objective to "Lead the US airport industry in environmental innovation and minimise the Airport's environmental impacts"
Yet to be determined is whether the total cost of ownership based on replacement cycles and energy savings is ultimately realised, given our hybrid installation utilising a traditional regulator and LED fixture configuration, and limited LED installation across the full airfield lighting complex. Nonetheless, LEDs signal that we have a 'green' light to move Seattle-Tacoma International Airport forward into the next era.
Biography
Michael Ehl is Director of Aviation Operations at Seattle-Tacoma International Airport, overseeing airfield, terminal and landside operations as well as air cargo, air service development, customer service and airline relations. His aviation career covers 32 years of combined airline and airport experience. He has an MBA from Seattle University, a BS in Aviation Management from Embry-Riddle Aeronautical University, is a graduate of Seattle University's Executive Leadership Program, and is an Accredited Airport Executive in the American Association of Airport Executives.
Issue
Related topics
Related airports