Airport Profile: Vancouver International Airport set to become a world class hub
Posted: 2 June 2015 | Craig Richmond, President & CEO of Vancouver Airport Authority
Canada's second busiest airport, Vancouver International Airport (YVR) is working to become a world class, sustainable connecting hub. Craig Richmond, President & CEO of Vancouver Airport Authority, explains how YVR plans to accomplish this by creating a gateway between Asia and the Americas, advancing air policies and delivering remarkable customer experiences…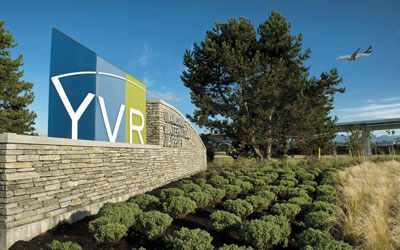 Commercial aviation is moving ahead at an incredible speed, with population growth and increasing demand for air services pushing airports it can be hard to keep up. At the head of the pack is Vancouver International Airport (YVR), a well positioned connecting hub focused on exceptional services and sustainable development.
2014 continued a long streak of consistent growth for YVR. We furthered our role as the hub of choice between Asia and the Americas. In fact, we welcomed new services at a rate of one per month which helped us push our passenger count to a record 19.4 million – growth of almost 8% over 2013.
We successfully defended our title of Best Airport in North America, according to more than 13 million Skytrax voters. This was the sixth year in a row our customers voted us to the top—a historic moment for Skytrax. YVR was also named in BC's Top Employers list for the ninth year in a row and given the award for Least Frustrating Airport in North America by Bloomberg News.
These awards are, of course, great to receive. But while we're thrilled to be acknowledged, we are also very aware of the competition. YVR has the gift of great geography, located on the West Coast of Canada – poised at the jumping off point to Asia Pacific – however, our location alone will not win us business. We're in a competitive industry where other cities openly covet the air service we have. And if they win the business, we lose it. It's that simple.
To stay competitive, YVR has built a culture that values innovation and teamwork. We take pride in what we do and work as a team to be a world class airport. To stay ahead of the game and take our airport, our hub, to the next level we need to think imaginatively. Our opportunity is to become a hub of innovation, a sustainable hub, a hub of world-class experience and finally the next great transit hub. Let me explain…
Innovative solutions
Innovation is one of our key values, pushing us to look at a number of non-traditional airport opportunities. Some of the great YVR innovations that make us stand out include our BorderXpress Automated Passport Control (APC) kiosks, which reduce customs wait times by 50%. Developed at YVR, they are currently being used in 20 airports across Canada, the United States and the Caribbean, helping millions of passengers through the US and Canadian border processes. In fact, we have also just introduced APC kiosks to the seaport in Vancouver for US cruise-bound passengers. So we are continuing to innovate and make every travel experience, whether that is at an airport or a seaport, more efficient and hassle-free.
We are also working with McArthurGlen, a European-based developer, to open the first designer outlet centre on airport property. This will provide our customers with great shopping opportunities and add to our region's destination appeal all while boosting YVR's non-aeronautical revenue. We are also in the final stages of launching a new app where customers can redeem coupons, play games and follow a self-guided 3D tour of the airport. These innovations are exciting and we've got many more in store with the goal to delight our customers and add to their YVR experience. If there's a process that involves the customer, we have a team working on an improvement.
Sustainable growth
With growth also comes the responsibility to do so sustainably. This has long been a key part of our governance and means many things – financial stability, environmental stewardship and a responsibility to support our communities. This year, we will give more than $1 million to local not for profit organisations, charities and initiatives throughout British Columbia in the communities we serve. YVR's Community Ambassadors will attend more than 30 community festivals this summer – engaging and sharing YVR's vision for the future.
As we grow, we remain steadfast in our commitment to environmental excellence. This year we unveiled a new five year Environmental Management Plan. This articulates the Airport Authority's drive toward environmental excellence and identifies the programs and initiatives that will embed environmental sustainability into YVR's activities and corporate culture. We have identified, and are committed to, reducing greenhouse gas emissions by 33%; reducing waste by 50%; reducing potable water consumption by 30%; and improving ecosystem health. These are aggressive targets, especially in a period of rapid passenger growth but we believe in pushing ourselves.
Examples of our environmental stewardship include a massive recycling program that diverted 93% of our construction waste from landfill last year, a $300 million investment in the Canada Line, and the fact that 76% of the taxis serving YVR are hybrids or low emission cars.
Delivering a remarkable experience
YVR received a 91% customer satisfaction rating from customers in 2014. We want this to continue and even improve. But as we continue to grow, the next question is: how do we keep delivering a world class experience to every customer?
Well, the key is to have the right services and amenities for passengers when and where they are required. A great example of how we're doing this is upgrading our free WiFi. On our busiest day, we had 50,000 people connect to our network – that's a lot of Netflix in the hold rooms! We want our customer's experience to be the best both in the terminal and online.
We also need to build upon our exceptional foundations. We have an award winning terminal with great design and architectural features that reflect the best of our region, but we continually need to keep building to meet the projected passenger demand of the future. This year we opened a major upgrade and expansion to our Domestic Terminal: the A-B Connector. This $213 million project makes it easier and faster for passengers and their baggage to connect through the airport. Making the travel process more efficient attracts new airlines and meets the demands of our customers. The next build will be our Expedited Transfer Facilities, which will reduce connecting times between international flights and reduce baggage delivery between any two points in our terminal to less than 30 minutes.
To be a successful hub, we have to constantly improve the customer experience. One of the areas we take great pride in is the accessibility features incorporated into our design and construction. We have worked hard to be one of the most barrier free airports in the world and continue to support travellers of all abilities in navigating our terminal. Last year we invited 28 families living with autism to participate in the first YVR Accessibility Tour, in partnership with Canucks Autism Network, Air Transat and the Canadian Air Transport Security Authority. During the tour, families were able to practice arriving at the airport, checking in, going through passenger screening and boarding an aircraft. We recognise the right of every person to travel and we will be there to help them wherever we can.
A world class sustainable connecting hub
Linking together the three elements of innovation, sustainability and a world class customer experience is how we plan to take our performance up another notch and become a modern transit hub with passengers flowing between North America, South America and Asia.
We've long been working on a Transit Without Visa program, which means passengers on international flights can connect through YVR en route to another international destination without needing a Canadian visa. Transit Without Visa is a game changer for us and for our economy. Flights that would not exist without connecting traffic can now open up new travel and export opportunities – whether it's businesses selling BC spot prawns to restaurants in Santiago or students from Sao Paulo coming to study at our universities. With expanded Transit Without Visa in place, in a few years YVR could easily add 10 new destinations into the US, Central and South America.
The current focus is on increasing air services from existing destinations as well as a number of new cities throughout Asia and Latin America. We recently enhanced our presence in Asia by opening a Hong Kong office. Having feet on the ground and ability to meet with carriers and tourism entities has had a significant impact on our growth. YVR saw record passenger volumes between itself and the Asia-Pacific region with traffic up almost 10% in 2014. Last year, YVR had more than 75 flights a week to greater China, and many people are surprised that we are neck and neck with SFO and LAX in this regard.
On the other end of the connecting hub, there is a push for Open Skies with Chile. In addition to a Free Trade agreement, Canada also lifted visa requirements with Chile in 2014. This would align nicely with the Airport Authority's Policy Trinity, which includes Free Trade, Open Skies and Visa Free for the major markets.
Cargo is already resurgent at YVR. Our cargo volume was up 12% in 2014 with more than 256,000 tonnes traveling through the airport. We have also just signed an agreement with Shanghai Pudong International Airport to collaborate on improving the perishable goods supply chain between Vancouver and Shanghai.
There is also India, which is a top priority. However, there are still a number of challenges which primarily have to do with route profitability and aircraft range—it's a long way from YVR! This is a great example of how Transit Without Visa could help the economics of this route; by combining higher yield US-India traffic with our local market demand.
YVR is at the threshold of becoming the world's next great transit hub. Staying competitive will develop us into a true international hub – flowing people and cargo across the world. Through continuous re-imagination and pursuit of new opportunities, we can keep delivering our mission to connect Vancouver and Canada proudly to the world. 
Biography
Following a career in airport management, including more than a decade in pivotal operational roles at YVR, Craig Richmond assumed the role of President & CEO of Vancouver Airport Authority in July 2013. With an unrelenting focus on safety, accountability, innovation and teamwork, he has continued to shape and enhance YVR, North America's Best Airport. He is on the Canadian Airports Council's Board of Directors and is Chair of the Greater Vancouver Gateway Council. He has an MBA from the University of Manitoba, and has served at home and abroad as a Canadian Armed Forces fighter pilot. He embarked upon a global airport leadership adventure in 2006 with YVR subsidiary Vantage Airport Group, which took him around the world as CEO of six airports in three different countries.