Airport Passenger Processing: Moving closer to seamless travel
The air transport industry has promoted the idea of seamless travel for many years. IATA's vision for its current Fast Travel program is that 80% of passengers be offered a complete suite of self-service options based on industry standards. What that means for the passenger is a faster and smoother journey. Matthys Serfontein, SITA's Vice-President, Airport Solutions demonstrates how airports are using such technology to enhance the travel experience…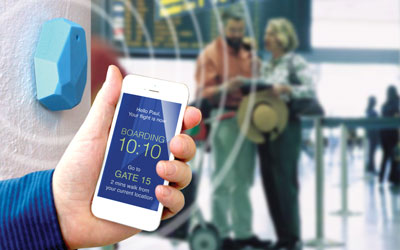 With the growing popularity of self-service and other seamless travel measures, IATA estimates that for outbound passengers, 10 minutes from curbside through to duty free is possible and is already happening at a number of airports today. The inbound journey is more difficult to predict because at major hub airports the distance from the gate to the baggage carousel can be extensive and border control has to be factored in. However, IATA estimates that 30 minutes for the inbound journey is possible.
In 2015, that vision is several steps closer to reality around the world as airlines and airports pilot new technology such as iBeacons, near field communications (NFC), passenger flow management, and automated border control gates and kiosks, while passengers adopt smartphones and self-service options in growing numbers.
Fueled by the mobile revolution, self-service is now increasingly possible via a smart mobile device or laptop for every element of a flight, from initial booking to destination border control and everything in-between. According to our Passenger IT Trends Survey 20141, 97% of passengers carry a smartphone, tablet or laptop when they fly and one in five travels with all three.
A growing number of passengers want to use technology at every point of the journey, and many already do. SITA's research shows that 76% are using airline apps and 43% say this has made a definite improvement to their travel. Half would like to use their smartphone for boarding, and more than 90% are interested in automated immigration gates. The demand is there and increasingly so too are the means. 
Self-service contributes to a seamless journey
Through its Simplifying the Business Fast Travel Program, IATA is providing industry leadership. The aim is that by 2020, 80% of global passengers will have access to a complete self-service suite of services based on IATA industry standards. Airlines and airports worldwide are introducing new self-service technology that will contribute to a more seamless journey for passengers, while improving operational efficiency.
For example, in 2014, SITA worked on a pilot that allowed passengers travelling on Air France flights from Toulouse-Blagnac Airport to Paris-Orly Airport in France to use smartphones enabled with NFC to get from the airport entrance to their gates seamlessly in a matter of minutes. Passengers automatically received their NFC boarding passes on their smartphones via their normal check-in method. Then by simply tapping their phone on dedicated readers in the airport, they were able to quickly pass through the different steps of their journey, including priority lanes for security control, lounge access and boarding.
In addition to saving time, passengers experienced a comfortable, stress-free journey, with no need to search for and display a barcode or a printed document. And even if their phone was locked or the battery was dead, the NFC readers could still automatically read their boarding passes. These are the kinds of passenger experiences we can expect to see more of in the future as airlines and airports trial new ways to improve passenger flow and self-service to better manage growing passenger numbers. 
Airports invest in seamless technology
Over the next three years, 86% of airports worldwide plan to invest in more multi-service kiosks, self-bag drop and self-boarding services. By 2017, nearly three quarters of airports expect the majority of passengers to use self-service check-in2.
Geo-location technology, which allows an airport to provide services in relation to where the passenger or staff is at a particular time, is also a popular initiative. 60% of airports plan geo-location programs over the next three years. In addition, mobile investments continue to be a major part of airport IT strategies with 84% investing in mobile applications for passenger services over the next three years.
In 2014, several airports, including Miami International Airport and Copenhagen Airport, experimented with iBeacons, a technology Apple introduced with iOS 7. Beacons use Bluetooth low energy and geofencing to trigger the display of location relevant information on devices at the right time and in the right situation. When integrated with an airport app, beacons can help provide passengers with indoor directions, walk times to gates, and potentially with special offers from retail stores and restaurants.
At Miami International Airport for example, beacon zones are in operation throughout the terminal, skytrain and car parks to allow wayfinding on passengers' phones. SITA Lab, the research and development team at SITA, has already tested the beacons with mapping technology, which has proven hugely successful.
And of course, beacons are not just for passengers. They can be used for staff notifications and to beam operational information such as temperature, noise levels and vibrations from throughout the airport to allow efficient operational management.
Developments in passenger flow monitoring are another great example of IT benefitting the passenger experience and increasing airport efficiency. SITA's own passenger flow monitoring suite helps to ensure people move through the airport at an optimum rate to minimise delays as well as maximise spend. With delays of only a few minutes potentially costing tens of thousands of dollars, passenger 'visibility' and flow is more important than ever.
Smart moves at the border
A key step in travel is at the border and any attempt to move to a 'seamless' experience must take this into account. Airports and border authorities have to cope with the normal while preparing for the abnormal. They must invest in systems that keep the flow moving at an acceptable rate for passengers, even at peak times, while ensuring sufficient security in a way that's cost effective and functionally efficient. In the past, the answer would be more staffing. But that has significant cost implications, not least in establishment costs, space costs and speed. Also, qualified border officers' time is arguably too precious to spend on the vast low risk majority – it's better used dealing with potential risk situations.
The smart answer is automation. Considerable weight for greater automation comes from IATA's Smart Security initiative. In step with Smart Security, as well as IATA's Fast Travel program, SITA is delivering an increasing range of self-service solutions. Border management, including automated gates and kiosks, is a prime element. SITA's automated border control (ABC) kiosks, for example, use advanced biometric technology to streamline border control procedures and process passengers securely in less than 60 seconds. These kiosks are already in use in Abu Dhabi, Rome, Kingston (Jamaica), Los Angeles, and many other airports across the United States, and have become very popular with passengers, government customs and border control authorities.
Passengers simply scan their passports to identify themselves and a camera on the kiosk captures their face biometric. If required, as in the USA, they can also provide their fingerprints. The passport and biometric information captured is then cross referenced to verify the passenger is who they claim to be and then checked against government watch lists. There are several immigration questions the passenger needs to answer on the kiosk touch screen, and once cleared, the kiosk prints out a receipt to show as they exit the customs hall.
The kiosks help ensure airports and governments can provide a warm welcome while still providing a high level of airport security and facilitating faster passenger processing. In Jamaica, for example, passenger throughput at the border is expected to increase by nearly 60% with the new kiosks.
ABC gates and kiosks mean fewer bottlenecks, so travellers experience increased satisfaction with airport services, and airlines avoid costly schedule changes for passengers who might have otherwise missed transfers. With passengers moving through the airport more quickly, overall capacity is increased, enabling more flights. Border agency staff can do more with less without compromising security – increasing capacity by as much as 400%. They can devote more resources to higher-risk passengers and they will face fewer travellers frustrated by long wait times.
New technology continues to create benefits for all
In recent years, new technology has empowered passengers to manage their own journeys. At the same time, common use technologies at airports, such as self-service check-in kiosks and self-bag drop units that all airlines can share, are driving down operational costs for airlines and airports.
The operational benefits these new technologies are considerable. For example:
A self-service bag drop unit can process 60 passengers an hour, compared to 24 using staffed counters.
Self-boarding gates can help reduce the number of agents required by around 50%, so they can be deployed to other functions.
SITA's automated biometric gates can process up to seven passengers a minute.
Technology is generating all these savings, while delivering a faster, more convenient journey for passengers, but airports and airlines must remember that the true seamless passenger journey hinges on better intelligence, analytics and smarter ways of working. Accessing quality data will enable seamless travel and will place information at the fingertips of travellers and mobile workforces. That means providing relevant and timely information at each step of the journey, which for all stakeholders involved in creating the travel experience means exploiting big data, analytics and intelligence in much more effective ways.
And as technology becomes a normal part of most people's travel experiences, it will continue to disrupt the traditional passenger journey and help create a new seamless airport experience. 
References
SITA (2014). Passenger IT Trends Survey 2014. Available from: sita.aero/surveys-reports/industry-surveys-reports/passenger-it-trends-survey-2014
SITA (2014). Airport IT Trends Survey 2014. Available from: sita.aero/surveys-reports/industry-surveys-reports/airport-it-trends-survey-2014
Biography
Matthys Serfontein is Vice-President of SITA's Airport Solutions where he is responsible for all aspects of the Airport Solutions business. This includes overall strategy, portfolio direction and investment, business development, product delivery, customer implementation and commercial operations. He joined SITA in 2007 as Regional Vice President for the airport solution line in Africa and has held his current position since 2012. Prior to this, Matthys enjoyed various senior management positions for the Airport Company South Africa and the South African companies, e.Airports Ltd and OSI Airport Systems as Managing Director.
Matthys holds a Bachelor degree in Accounting and a Post Graduate Degree in Management Accounting. In addition he also has an Airport Management diploma from the International Aviation Management Training Institute in Canada. He is based in Atlanta, USA.