Preparing for the future: A new approach at Vienna Airport
Posted: 20 March 2015 | Mag. Julian Jäger, Management Board member, Vienna Airport (VIE)
Located at the very heart of Europe, Vienna Airport (VIE) is a strategically important airport in the region. As Management Board member Mag. Julian Jäger explains, VIE has made substantial progress in the past year in terms of the expansion and modernisation of infrastructure, its strategy to save costs and increase productivity, and the strengthening of its non-aviation business.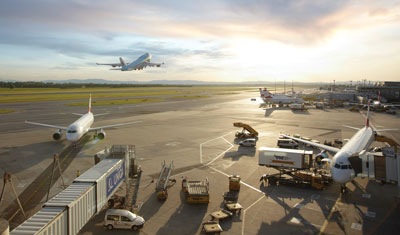 Vienna Airport is an important hub towards Eastern Europe for Austria's economic landscape. Several multinational companies operate their Central and Eastern Europe businesses from regional headquarters located in and around Vienna. Meanwhile, for the tourism sector, VIE is the country's main gateway to the world. More than 300 company headquarters are based around the airport and the consistent network of routes from VIE to Eastern European countries is vital to these organisations. Meanwhile, with more than 20,000 employees in 230 companies onsite, the airport is one of the biggest employers in the eastern part of Austria.
Strengthening long haul and transfer traffic
The flight schedule in 2014 saw the opening of several new routes. In May 2014 jet2.com started a Vienna-Manchester route, where VIE sees strong market demand. Austrian Airlines opened a further long haul destination with Newark, a new long haul connection to the African continent going to Addis Abeba by Ethopian Airlines. Air China has also now connected Vienna with Peking, while Austrian Airlines and NIKI increased their frequencies to several routes and destinations.
From today's perspective, impetus to growth in 2015 will be provided by the launch of flight services to Mauritius (MU) and frequency increases to Newark (US) and Athens (GR) by Austrian Airlines, and new destinations added by NIKI, namely Catania (IT), Alicante (ES), Athens (GR), Paphos (CY). There has also been an increase in the number of flights it operates to Zurich (CH), as well as new routes and expanded flight services from EasyJet, Vueling, TUIFly, Estonian Air, Aegean, SunExpress, Pegasus Airlines, Montenegro Airlines and Air Moldova.
Infrastructure modernisation
We have introduced several initiatives to reduce costs and improve productivity, as well as gaining additional revenues from new sources, such as real estate. Non-aviation activities, including real estate, parking, retail, and food and beverage, contribute a third of VIE's total revenue. Parking and retail, in particular, are key drivers. Increasing service quality and enhancing the passenger experience are key near-term targets for Vienna Airport.
Empowering the passenger is at the heart of many of the airport's initiatives. Self-service check-in is already well established at Vienna Airport and self-bag drop for Star Alliance flights started last year. Vienna Airport offers free WLAN in all terminal areas without any time restrictions or need to register so that travellers can conveniently surf the Internet with their smart phones or laptops. Additionally, the Vienna Airport app ensures that passengers have the latest information on their personal flight itineraries. The newest service offering for all passengers are waiting time displays at security checks and conveyor belts. This enables travellers to see how long they will have to wait at the security checks or for their luggage. For all flights handled by Vienna Airport, passengers can see on the monitors how fast their suitcases appear at the carousels.
New culinary and shopping experiences at Vienna Airport
It is particularly important for us to have an exclusive and high quality shopping and culinary offering. We put great emphasis on ensuring a balanced mix of local specialties and international products. Travellers are offered a wide range of culinary options. The restaurants Zugvogel at the Plaza in Terminal 2 and Rustichelli Mangione at the D Gates opened in 2014, offering passengers light meals and snacks before their departure. Gebr. Heinemann has also opened the largest duty free shop in Austria in the shopping plaza. In an area of about 1,200m², travellers will be able to find a huge range of international brand name products at low prices, Austrian specialties, delicacies and surprising service innovations. Victoria's Secret, the leading lingerie and beauty brand, has just opened its first beauty and accessories store at Check-in 2 within the shopping plaza.
Expanded shopping at the modernised Pier West
A vital project of importance designed to modernise the infrastructure of Vienna Airport was also completed at the end of 2014. Pier West and the C Gates were newly designed and feature a new gastronomical concept by DO & CO. All in all, renovation work was carried out on a terminal area of over 9,500m². The partition walls in the 3,200m² area of the C Gates were removed, and a more open, continuous waiting area for passengers was created. Seats equipped with power outlets and USB connections enabling mobile phones or laptops to be charged ensure greater comfort along with unlimited free WLAN. More than 17,000 passengers are handled each day at Pier West, flying with up to 140 aircraft from 15 airlines, mainly airberlin and NIKI, the second largest airline group at Vienna Airport.
Great emphasis was placed on ensuring a new and high quality culinary offering. A completely new restaurant area of about 800m² was decorated by DO & CO. Passengers now experience a truly high quality culinary offering featuring the brands Demel, Henry, the American diner Big Daddy and a separate children's adventure area. Guests can enjoy an extensive offering ranging from traditional Viennese coffee house culture with original Viennese schnitzel made of veal, pastries and a large choice of cakes, fresh salads and high quality burgers to cold and hot sandwiches.
Centrally located, the new DO & CO bar offers an extravagantly designed area with a large offering of exquisite wines, beer and cocktails for a relaxed stay until departure. In addition the spacious shopping plaza has over 20 shops located in front of Pier West while shopping opportunities at the gates themselves have also been expanded. The enlarged Manner Store and the new Flavors of Austria shop give travellers a large selection of sweets, traditional specialties and a sales corner of the cult brand PEZ to choose from. Well known fashion brands are featured in the 126m² Welcome Fashion Shop such as Flug zeug, Capo, Codello, Vilebrequin, Jockey International, lolaandgrace, LU.ST and OLYMP.
A real estate location with potential
The airport as the leading flight hub in Central and Eastern Europe is particularly important to the Austrian economy. Companies which operate the headquarters for their CEE business operations in Austria rely on Vienna Airport as an efficient, high performance connection to the international economy. In turn, this leads to value and job creation. An area of more than 1,200 hectares is owned by Flughafen Wien AG, which opens up many opportunities for commercial use. For example, a commercial property of over 140,000m² near Fischamend is ideal for companies which require close proximity to the airport, such as logistics services providers. The proximity to Eastern Austria's largest transport hub with all the services it offers, short distances to local suppliers in Fischamend and at the airport and the closeness to the A4 Highway and the B9 Federal Road make this industrial park a perfect location for setting up business operations.
In close cooperation and with the support of the Municipality of Fischamend, Flughafen Wien AG is particularly targeting companies which rely on proximity to the airport. Two such companies have recently settled here: cargo-partner will expand its logistics operations to about 21,000m² and Makita Austria is relocating its corporate headquarters to the new commercial property with a 23,000m² space. New industrial premises are to be built in this industrial park.
Vienna Airport also has an attractive offering for companies in terms of office space. In the Office Park buildings, we offer fully equipped office space and conference rooms which are well suited for meetings and company events. The entire portfolio of office space at Vienna Airport comprises an area of about 84,000m². Hotel capacities will be expanded In order to be able to offer optimal accommodations. In this regard, Moxy Hotels, a new trendy brand from Marriott International, will open up its first hotel in Austria incorporating 400 rooms. The investment company for this project is Vastint Hospitality BV, a company belonging to the Inter IKEA Group. The new hotel is expected to commence operations at the beginning of 2017.
Vienna Airport is turning into an 'airport city'
There is a clear trend towards the development of 'airport cities' at the moment. For a long time, airports have not only offered the infrastructure to handle airplanes and passengers but also other services as well, from a wide range of shopping opportunities and culinary delights to conferencing and event facilities and overnight accommodations. They also include new services such as medical and fitness centers. Vienna Airport is also moving in this direction. One third of the airport's revenue is already derived from the non-aviation segment such as parking, leasing of commercial properties and shopping/catering. Considerable growth potential still exists in the Eastern Austria region, and Vienna Airport hopes to exploit this. With this in mind the aim is to establish the airport as a multi-national location.
Biography
Mag. Julian Jäger has been a member of the Management Board of Flughafen Wien AG since 2011. He was previously CEO of Malta International Airport plc and Head of the Business Development Department at Flughafen Wien AG.