Airport fire & rescue services: Implementing and complying with new EASA rules
Posted: 20 March 2015 | Kim Olsen, Head of Copenhagen Airport's Fire & Rescue Academy
New rules from the European Aviation Safety Agency (EASA) for airport rescue and firefighting services will soon begin to be implemented in European airports. This will be an interesting and demanding process to be certified by the new rules for many airports. Kim Olsen, Head of Copenhagen Airport's Fire & Rescue Academy explains how it is training to meet these standards.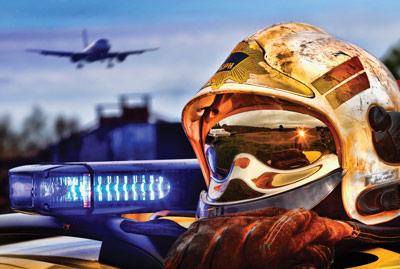 Founded in 1925, Copenhagen Airport was one of the first civil airports in the world. The early years were characterised by the pioneering spirit in a day and age when flying was for the privileged few. Today Copenhagen Airport has more than 25 million passengers annually. The airport is Scandinavia's main airport, acting as the transfer airport for air traffic between other parts of the world and the many national and regional airports in Scandinavia and the area south of the Baltic Sea.
Copenhagen Airport functions as the hub for SAS and is thus one of the hubs in the Star Alliance, a network of 27 international airlines that fly to a total of 1,160 airports in 181 countries. Our vision is for Copenhagen Airport to be the preferred gateway to northern Europe and a gateway for travel to other destinations, all while making you wish you could stay. Its World Class Hub strategy is designed to make this vision come true.
Copenhagen Airports expects to be an EASA certified airport in 2016. The transition process of going from national law and regulations to the EASA rules began in 2014. A meticulous master plan is in the works and different working groups, with experts in different areas are preparing for this certification. Like many other EASA airports Copenhagen has been complying with national law rather than ICAO recommendations in regards to the airport fire service. The EASA rules are in some areas easier to comply with than others. However, within the fire and rescue service most airports will need to use time and resources on especially complying with the few stricter EASA rule requirements. This process also will give us all an opportunity to look and update all areas within airport operations, especially for the airport fire and rescue service. This will insure a safer future for aviation in all EASA airports. The following describes the key requirements.
Medical standards for RFFS personnel
'The aerodrome operator should ensure that appropriate medical standards are met by RFFS personnel.'
An ACI rulemaking group has put forward guidance to EASA on this subject. This is to ensure that all EASA rescue firefighting personal meet the same standards of medical and physical fitness. This will be a demanding rule for small airports, with small staff in low populated areas. But will also insure that all EASA firefighters are physically fit to do their job in a worst case scenario.
Response time
'Rescue and firefighting service achieves a response time not exceeding three minutes with an operational objective of not exceeding two minutes, to any point of each operational runway, in optimum visibility and surface conditions, and be in a position to apply foam at a rate of, at least, 50% of the discharge rate.'
Danish national law currently has a requirement to meet the three minute response only, so further there will be additional challenges in complying with this rule.
Aerodrome emergency exercise
'The aerodrome operator should ensure that the emergency plan is tested with: A full scale aerodrome emergency exercise at intervals not exceeding two years; and partial emergency exercises in the intervening year to ensure that any deficiencies found during the full scale aerodrome emergency exercise have been corrected and reviewed thereafter, or after an actual emergency, so as to correct any deficiency found during such exercises or actual emergency.'
In Denmark this will be a major change. Current Danish law has no limit and no guidance as to how often a full-scale exercise has to be executed. ICAO recommendations are every three years and practice in Denmark has been every four years. This will be a demanding rule to comply with for almost all airports. Not that the airports' fire services will have any problem, but to get all the mutual aid in an emergency plan to participate, this will be a resource consuming task.  
Training program for RFFS personnel
'Rescue and firefighting personnel actively participate in live fire drills commensurate with the types of aircraft, and type of rescue and firefighting equipment in use at the aerodrome, including pressure-fed fuel fire drills.'
This rule and clear recommendations on the training of airport firefighters fits like a hand in a glove with the new Copenhagen Airport Fire & Rescue Academy.
Copenhagen Airports A/S has invested in an environmental clean-up of the old fire training area. A new aircraft fire training simulator has replaced the old one and a 'facelift' along with renovations of the old classrooms has been carried out. These changes had been decisive for the initiative to go from being the Danish national training center for aviation firefighting to an International Aviation Fire and Rescue Academy.
The Copenhagen Airport Fire & Rescue Academy is dedicated to training for aircraft firefighters that complies with both EASA rules and ICAO recommendations. Partnership with Dallas Fort Worth Airport Fire Training Research Center, Changi Airport and the Singapore Aviation Academy with the goal of developing new and better training programs, will soon be a reality. The ambition is to develop a world class aviation fire training center with a focus on basic aviation firefighter training. New courses are in the process of being developed and we hope to offer these by the end of 2015. These include a basic water rescue course for airports, advanced courses in tactical approach to aircraft fires and rescue techniques.
The new Airbus 320 aircraft fire training simulator is one of (if not the) most advanced in the world. New technology in environmental protection, high tech computer control systems and realistic fire and smoke scenarios – internal and external are featured on this simulator. Aircraft formulisations are also integrated into the simulator. On one side the doors function as on a Boeing aircraft and on the other side the doors work like an Airbus. There are four different engine and eight different, realistic engine fires to train with.
No doubt that this aircraft fire simulator will be of benefit to all airport firefighters that choose to conduct their training in Copenhagen while also insuring compliance with the EASA rules.
Biography
Kim Thorbjørn Olsen is Head of Copenhagen Airport Fire & Rescue Academy, Copenhagen Airport, Denmark. He has worked within the aviation world for over 38 years. Before taking on the job as a firefighter at Copenhagen Airport, he served nine years in security/airport police. A promotion and a new job at Roskilde Airport meant getting involved with ARFF. After returning to the Copenhagen Airport Fire & Rescue Department in 1989, he has worked his way through the ranks.
He is a member of both IAFPA and the ARFFWG. Today he holds a position as a Manager for section 11 in the ARFFWG and functions as a Liaison Officer between the two organisations, after having served seven years on the Board of Directors for section 11.
Issue
Related organisations