Airport Profile: Bahrain International Airport
Posted: 16 February 2015 | Mohamed Thamir Al Kaabi, Chief Airport Operating Officer, Bahrain International Airport
Proud of its deep-rooted history in aviation, Mohamed Thamir Al Kaabi, Chief Airport Operating Officer of Bahrain International Airport (BIA) explains how it continues to uphold its reputation as a significant transit and cargo hub in the Arabian Gulf. Home to global commercial and cargo airlines since its establishment as the first international airport in the region in the early 1920s, BIA is central to this fast-growing sector, offering high levels of service to its customers, partners and the millions of passengers passing through its gates.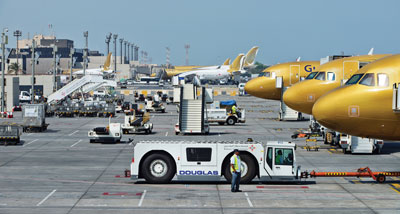 Since taking over the management of BIA, Bahrain Airport Company (BAC) has been committed to operating the kingdom's national gateway as a world class facility and further boosting the country's aviation capabilities in line with the national strategy and vision. 2014 has been a significant year for BAC in this respect. The company has gone to great lengths to strengthen BIA's competitive advantage by continuously improving the passenger experience, airport facilities, infrastructure and ground operations in line with international standards and strategies. As a result, BIA has climbed to 55th place in the latest Skytrax ranking of the world's top airports, a significant jump from previous years.
Bahrain International Airport: Well positioned for growth
Strategically located in the heart of the Gulf, BIA enjoys natural geographical advantages that make it a magnet for airlines. Its proximity to the region's largest economy, the kingdom of Saudi Arabia, short travel times to the Northern Gulf and ample connectivity options to Europe, Asia and the Far East make BIA an attractive cargo and transit point.
In the past year alone, BIA has witnessed a 10% surge in passenger traffic with over eight million passengers having accessed the airport. As the Cooperation Council for the Arab States of the Gulf (GCC) economies continue to grow and the regional aviation industry flourishes, this trend is set to persevere for the next five years at least.
The same applies for the cargo sector – Bahrain is an ideal gateway between east and west and is home to global logistics providers such as DHL, which has been firmly established in the country for over 35 years. As logistics continues to be an important vehicle linking the Middle East to the global marketplace and driving trade, key logistics companies are forever seeking hubs that offer new routes, multi-modal options and enhanced air networks to take advantage of the region's massive growth potential.
BIA's main drivers of success have been its people and its focus on maintaining the highest level of service excellence. It prides itself in being a friendly and efficient airport with service-oriented employees. Customer satisfaction is the top priority and can be felt from the moment you arrive at the terminal. The warmth and assistance received at BIA reflects Bahrain's welcoming culture and is an intrinsic characteristic of its staff.
In an effort to continuously improve the passenger travel experience, BAC has introduced a series of initiatives in the past year. HappyOrNot® kiosks have been installed at the arrival and departure halls as a new easy to use customer feedback tool that enables BAC to monitor performance levels across key areas of the airport operations and benchmark against the highest industry standards. This is a first of its kind technology in Bahrain and provides BAC with real-time feedback on areas such as shopping experience, food and beverage facilities, efficiency of check-in and immigration services as well as general cleanliness and upkeep of communal areas.
Improving connections
Other key highlights include the introduction of seven new, modern, aerobridges at the terminal, a significant investment intended to boost efficiency, infrastructure quality and enable comfort and ease of movement. Taking a proactive approach, BAC has also launched an online passenger survey in collaboration with the Ministry of Transportation, welcoming the public's feedback and opinions on the nature of services, facilities and overall conveniences they would like to experience when travelling through BIA – this was a positive step to ensure that change is inspired by the people of Bahrain.
Connectivity, efficiency and a convenient travel experience are also among the main strengths of BIA. At present, there are over 42 major airlines flying out of BIA – 27 commercial and 15 cargo airlines – covering over 46 destinations globally. BAC has sought to further grow these numbers through a two-pronged approach – international exposure and a phased, long-term route development strategy.
On a commercial front, BAC's route development strategy has proved very fruitful. This past year the company has concentrated on new route opportunities, increased frequencies and attractive, high growth destinations. BAC was extremely active in reaching out to international airlines and encouraging them to make Bahrain their regional home, with Pegasus Airlines and Jordanian Airlines being the most recent entrants into the local market. These latest additions to BIA's extensive airline portfolio have provided passengers with more route options and connectivity within the Middle East and Europe.
Similarly, the company has been working closely with its airline partners to explore the endless opportunities presented by Asia and the Far East which offer tremendous growth potential for both commercial and cargo airlines. New markets such as China, Bangladesh and Nepal as well as under-serviced countries such as Manila, Colombo, Sri Lanka and the Indian Subcontinent are currently under discussion.
BIA has also focused on reinventing its cargo offering through improved facilities, connectivity and enhanced service performance in order to attract new airlines and other integrators. BIA offers cargo and airlines a strong airside infrastructure and a smooth operating capability which is personal, flexible and competitive both on cost and service levels. Its strength also lies in its proximity to Saudi Arabia, only 45 minutes across the bridge, and its accessibility to other GCC states which are within an hour's reach. The kingdom boasts the shortest travel time between its seaport, airport, and the logistics processing zone of anywhere in the Gulf, enabling companies to serve other markets in the Middle East with great ease and efficiency. BIA has great potential to grow as a cargo hub and become a major revenue contributor along the same lines as international cargo hubs like Schipol and Hong Kong.
Modernisation plans
With the Arabian Gulf economy booming and the aviation industry in the region growing at an astounding rate, BIA is situated to reap the benefits. Under the guidance of the Ministry of Transportation, BAC has forged ahead with its Airport Modernisation Program (AMP), an ambitious venture to elevate the facilities, infrastructure and services of Bahrain's gateway in order to transform BIA into a world class facility by 2018. This is in line with the kingdom's national vision and reputation as a financial, cultural and aviation center in the Gulf region.
The first phase of the AMP was launched at the start of 2014 with immediate enhancement and cosmetic works being carried out on the existing terminal. The new aerobridges are a prime example along with new high-tech scanning machines, the extension of the duty free area featuring additional luxury brands, the provision of free WiFi across the terminal, and the introduction of more food and beverage options as well as many more cosmetic improvements.
Tender requests have also been issued to local and international companies for the second phase of this ambitious project, with more to come in the future. BAC is now anticipating construction work on the new terminal to kick off in 2015 and many resources are dedicated to the success of this five year journey.
BAC is also proudly gearing up to host the first ever Routes Middle East and Africa event next year; this is a significant boost for BAC and the country and will bring together route development professionals from across the world to discuss aviation progress and outlook in the region. Bahrain's hosting of this international forum will give the country an economic boost and stimulate business through increased international media exposure and potential global investment opportunities in the kingdom's aviation industry.
With forecasts predicting passenger growth in the Middle East to increase by an estimated 5% annually, and the Gulf region to lead global aviation industry growth over the next five years at least, BIA is taking great strides to capitalise on these trends. The current infrastructure of BIA is being upgraded, passenger and cargo capacity are being increased, new routes are being introduced, and new airlines are launching operations. These are all significant developments that serve to solidify BIA's competitive positioning in the region and offer passengers a world class service.
Biography
Mohamed Thamir Al Kaabi is Chief Airport Operating Officer of the Bahrain Airport Company. In his current capacity, he is responsible for developing and implementing measures to further enhance the travel experience and overall efficiency of the airport's operations. With over 34 years of experience in the aviation industry, 10 of which were spent at different positions within Bahrain international airport, Mohamed has achieved and developed valuable know-how and extensive knowledge in air traffic management, airspace planning, aviation safety, security, strategic planning, quality management, risk analysis, airport regulations, operations, commercials and airport management. He holds a multi-rated incident free Air Traffic Control license and a Master of Business Administration degree from Glamorgan University, UK.