Leading Los Angeles Airport into the future
Posted: 8 December 2014 | Gina Marie Lindsey, Executive Director, LAWA
Los Angeles International Airport is in the midst of a modernisation and development investment worth £7 billion. Executive Director of Los Angeles World Airports, Gina Marie Lindsey, provides an overview of the projects.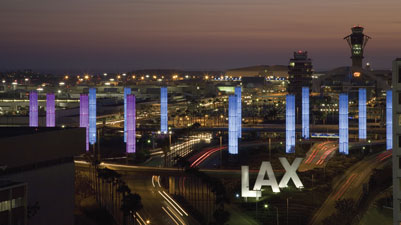 In October 1928, when members of the Los Angeles City Council decided to convert 640 acres of Los Angeles farmland into dirt landing fields, they probably never dreamed their 'new' city airport would one day become one of the world's busiest, and the economic hub of the region.
Now, 86-years later, a transformation is taking place at Los Angeles International Airport (LAX). This major makeover will change the airport's image of nine separate terminals connected by a traffic jam, into that of a 21st century airport that is worthy of a worldclass city. Los Angeles World Airports (LAWA) is investing more than $7 billion in modernisation projects that will effectively renovate all nine terminals, add a new international terminal, and build the necessary utility infrastructures that will power LAX into the future.
LAWA is upgrading its Central Utility Plant (CUP). This project is replacing the 50-year-old, existing CUP with a more modern and efficient facility. It will provide additional capacity for air conditioning, heating, and lighting of the airline terminals and other airport buildings.
Another Capital Budget Phase I project is the new Tom Bradley International Terminal (TBIT), which opened in autumn 2013. TBIT is considered the 'crown jewel' of the overall LAX Capital Improvements Program. With international passenger traffic growing at a breath-taking rate, and to maintain its advantage in an increasingly competitive marketplace, LAX had to start from scratch to give passengers the experience they have come to expect in a world-class international terminal. The new terminal has 18 new gates, nine of which can accommodate larger, new-generation aircraft like the A380.
A Great Hall – complete with 29 premier dining locations, 42 retail shops, seven airline club lounges and a children's play area – will provide passengers an exceptional experience. We are now currently working on Capital Budget Phase II, connecting the new building to the old building. The work is expected to be finished in 2015.
LAX currently has nearly 200 construction projects in progress costing over $870 million. Using airport revenues, bond funding and grants, we're giving Los Angeles the premiere international gateway it deserves.
Terminal development
At Terminal 1, Southwest Airlines has begun a $500 million renovation programme that will include a full concessions renovation in partnership with Westfield. The main entrance to the terminal will be moved west to alleviate congestion at the entrance to the Central Terminal Area (CTA) caused by traffic stopping in front of the terminal. Besides cosmetic improvements, walls are being widened to create more space in passenger hold rooms. Southwest will keep flying throughout the development, which means the work is being done in phases. The full renovations are expected to be completed in 2018.
In Terminal 2, the airport's second busiest international terminal, there is $300 million worth of work being undertaken which is expected to be completed in 2017. While not a complete rebuild, there will be substantial improvements, including adding Los Angeles-centric dining and retail options, again in partnership with Westfield. By putting 'LA into LAX', LAWA is ensuring passengers truly experience Los Angeles, regardless of how long they stay. The Terminal 2 improvements also include major upgrades to the ticket lobby, baggage screening and baggage claim areas, concourse, passenger lounge and dining areas, and upgrades to electrical, mechanical, telecom systems, and more.
Terminal 3 has had a little bit of lipstick, but its future is currently in question and therefore at this point in time, the terminal isn't undergoing a complete remodel. However we will be working with Westfield to upgrade the concessions.
In Terminal 4 new concessions have opened, but the big improvement is construction of the Terminal 4 connector building, a $115 million project that connects TBIT to Terminal 4. It will include a new baggage screening system, vertical circulation, a bus gate, and an outdoor plaza. The Terminal 4 Connector is expected to be finished in 2016.
Delta Airlines operates Terminal 5 and is making $250 million worth of improvements. From new colour schemes to contemporary materials, the project is already improving passenger service and security with a completed new in-line baggage screening system, expansion and streamlining of the passenger screening check points and international passenger processing facilities. Construction is expected to last throughout 2016.
Alaska Airlines completed a renovation of their gates and ticketing area in Terminal 6 in March 2012. Continuing with these improvements, Westfield will improve the concession offerings at this terminal. Upgrades will be ongoing to mid-2017.
Terminals 7 and 8 haven't broken ground just yet, but United Airlines is scoping about $400 million in improvements across the two terminals. Construction in this area will be ongoing through 2019. 
LAX's entire upper/departures level roadway is being reinforced and made-over with new light poles, an electronic light band throughout the length of the CTA, and new exterior sidewalk canopies outside of Terminals 3 and 4. Once completed in 2016, the 'Curbside Appeal and Roadway Improvement Project' will provide a new, dramatically upgraded look for LAX.
Outside the CTA, the Board of Airport Commissioners has approved funding for the Midfield Satellite Concourse (MSC) North Phase, which will have 11 gates in a new facility located west of the new TBIT on the airfield at LAX. There will be an MSC South Phase as well, which will likely add 12 or 13 additional gates. The South Phase will require us to move hangars and maintenance facilities, so we don't yet have a timeline for the south half of the concourse; however the North Phase is projected to be completed by the end of 2019.
Introducing more public transit options to the airport is also a top priority. We are currently concentrating on detailed planning and next-phase environmental review for these landside improvements. While actual construction is still years away, the improvements will include an Automated People Mover (APM) system which would tie in to the county-wide light rail and connect to an Intermodal Transportation Facility and a Consolidated Rental Car Facility. The ultimate goal is to reduce the number of cars and alleviate vehicle congestion in and around the CTA.
If all goes to plan, light-rail and bus activity would connect with the APM at a light rail station being built near LAX. Many of our other commercial ground transportation activities and our own FlyAway® non-stop bus service would connect with the APM at the new Intermodal Transportation Facility.
Of course, all this construction isn't without some inconvenience. Members of our development team often equate our modernisation effort to preforming open-heart surgery on a patient who must also go to work and perform to the best of their ability while under the knife. And that's exactly what we're doing at LAX. Throughout the construction, LAWA is continuing to operate the sixth busiest airport in the world. We are timing and phasing each and every project, while informing and inspiring the public to use a new communication campaign website: www.laxishappening.com.
While all of this change is exciting, the modernisation of LAX isn't just about making the airport a more desirable destination point. It is also necessary to keep up with demand. In 2013, we served 68.7 million passengers including nearly 19 million international passengers. We expect to easily surpass those numbers by the end of 2014.
LAX is Happening! It's a time of extraordinary modernisation and transformation. I'm proud to be a part of it, and to lead the team that is investing in LAX and the future of the City of Los Angeles.
Biography
Gina Marie Lindsey has been Executive Director of Los Angeles World Airports since June 2007. She has more than two decades of experience in airport management, having previously been Executive Vice President of McBee Strategic Consulting, a Washington-based government relations and aviation consulting firm; Managing Director of Seattle-Tacoma International Airport; Director of Aviation for Anchorage International Airport and has also worked for the Alaska Department of Transportation on surface transportation issues. Gina Marie has served on both the Airports Council International World Board and the Airport Cooperative Research Board under the National Academy of Sciences. She was the first woman chairperson of the ACI-NA and has chaired the FAA Management Advisory Council.